Mountain bikes are traditionally designed for use on mountainous terrains, rocky roads, unpaved surfaces, and a range of other technical trails. But you've to ask, can you ride a mountain bike on the road?
While you can easily ride cross-country mountain bikes on the road because of their lighter build and swiftness, you may need to make a few adjustments on others to make them roadworthy. That includes upgrading the tires, using suspension lockout, and adding side mirrors.
Mountain bikes have standard wheel sizes of 26″, 27.5″, and 29″. They often have a light frame, front/full suspension, and durable wheels with powerful brakes.
MTB's suspension system has shock absorbers, ensuring your bike's comfort. They also have wide handlebars intended to help control the bike.
These specs ensure that your mountain bike is ready for whatever obstacles you might encounter on the road, be it roots, loose dirt, rocks, steep grades, or even curbs and potholes.
I will discuss why you can ride a mountain bike on the road, the challenges you might encounter, and the adjustments to make on a mountain bike to make it more suitable for road use.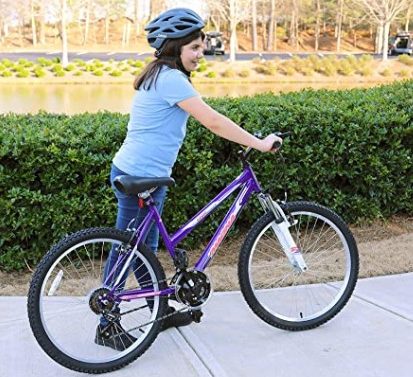 Are Mountain Bikes Designed for Road Use?
The truth is that mountain bikes are not best for the road, and that's why we call them 'mountain bikes' and not 'road bikes.' The reason for that is because of their choice of specs which are as shared below:
a) Handle Bars
Regarding MTBs, handlebars are critical determinants of how comfortable you will feel riding the bike. The wider the handlebars, the greater your leverage, especially when riding downhill or maneuvering on rough terrains.
That is because they give you more room for mobility while helping you maintain a good posture for your shoulder width and strength.
Wide handlebars require the rider to be more aggressive, leaning forward to increase the weight on the bike's front wheel to help it have more grip on the surface.
The average width of a mountain bike handlebar ranges from 700mm to 800mm. While this is suitable for off-road bike riding, the same does not apply when riding on the road.
Often when riding on the road, one is bound to encounter traffic, and you want a bike that can easily maneuver between cars. The ideal handlebar for a road bike should range from 380mm to 460mm.
b) Suspension
Suspension helps absorb vibration and shock while increasing weight on the bike, which helps maintain traction when riding on rough terrains.
The primary purpose of suspension is to provide comfort on the trail while giving the cyclist more control over the bike. It reduces the direct impact on the bike when riding on rough terrains.
A suspension does this through compression damping and suspension rebound.
Overall, mountain bikes mainly have two kinds of suspension: hardtail (only front suspension) and full suspension (also known as dual suspension).
A mountain bike is more likely to absorb shock from the bumps or potholes through compression damping when used on an uneven road.
For instance, when the bike hits a curb, the wheel will move upwards, and compression damping will absorb that shock, which causes fork suspension, while suspension rebound returns the suspension to its proper position.
However, when riding on a paved road or uphill, suspension tends to slow down the bike, which might present a challenge, especially when riding on a busy highway.
c) Tires
Wide tires cover more surface area, offering stability. Mountain bikes have an average tire width of 2.25 inches to 2.4 inches to make them safe and stable for riding off-road and on rough terrains.
These rubber tires have a low durometer and are knobby, unlike road bikes, providing the cycle with a firmer grip on the terrain.
The wider the bike tires, the greater the rolling resistance. That is especially the case when riding on the road.
Because of their knobby tires, mountain bikes tend to be slow on pavement or flat surfaces because they grip the surface. That makes riding a mountain bike more tiring as you use more energy pedaling to push the tires.
Also, this resistance results in wear and tear when an MTB is used on the road, increasing maintenance costs.
d) Gears
Modern bikes have 1X, 2X, and 3X gearing. They have a single chainring with a 9 to 12-speed cassette and can go up to 36 speeds.
However, this range of gear ratio suits mountainous terrains and off-road adjustments. There is no gear option on mountain bikes for riding on the road.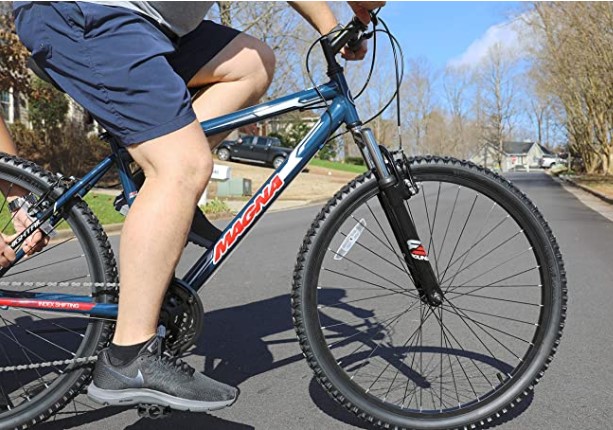 Can You Ride All Mountain Bikes on the Road?
The answer is NO, as different mountain bikes have different riding experiences.
For instance, a downhill mountain bike is designed to descend very easily, offering comfort to the rider. However, they are not ideal for riding on a steep uphill, making them unsuitable for riding on the road.
Cross-country MTBs, on the other hand, are designed for racing. You can easily ride them on grass, dirt, flat, and off-road terrains. Despite being specifically intended for off-road use; these bikes would also be suitable for use on the road.
Cross-country mountain bikes have less suspension than other mountain bike types, making them easy to ride on the road. Their frame is mainly made from carbon fiber and aluminum, which makes them very light and fast.
Cross-country bikes are best on all terrains, which often entail paved paths.
As for trail bikes, enduro mountain bikes, and others, you may only ride them comfortably on the road after a few upgrades and adjustments, which I'll share next.
How to Make Your Mountain Bike Suitable for Riding On the Road?
You can make certain adjustments to your mountain bike to make it suitable for road use. The following are some of the suggestions:
Add side mirrors, lights, and fenders to make them safe for use on busy roads.
Buy an extra set of tires better suited for road bikes and switch them when riding on the road.
Use suspension lockout when riding on an even road. That will reduce the energy you will require to pedal when cycling.
Adjust your bike to the middle gear.
Increase air pressure in your bike tubes to reduce the bike's rolling resistance. That reduces traction when cycling on a paved surface.
Why Should I Ride a Mountain Bike on the Road?
You probably wonder why to go through the hassle of accessorizing and upgrading a mountain bike to make it road worthy. Or perhaps you are asking, why get a cross-country mountain bike when you could get a road bike?
The following are some advantages of using a mountain bike on the road.
· More Routes Option
Mountain bikes are structured to withstand all sorts of off-road terrains, such as unpaved surfaces, rocky roads, single tracks, and paths with loose dirt. For this purpose, they have wider tires and stronger rims than road bikes.
You might wonder how this comes in handy when riding on the road.
If you choose to ride your mountain bike on the road as you run your errands, more routes become available, as you can ride across the fields and rough trails and back to the road again.
You can even use as many shortcuts as possible without worrying about your bike being unable to withstand the challenging terrains you might encounter.
· Stability
Mountain bikes have wide tires, making them more stable as their wheels cover a wider surface area than road bikes. That makes a mountain bike even more suited for a beginner.
· Durability
Generally, mountain bikes are made more durable than ordinary bikes. They have strong wheels, so you don't have to worry about causing damage to your bike when riding on any terrain.
The thick tires can go for a long time without any puncture. MTB frames are strong to withstand most impact. These factors reduce the cost of maintenance and having to replace bike parts often.
· Uneven Roads
It's hard to find a road or pavement without curbs, potholes, and bumps. Given that a mountain bike is designed to ride on rough roads, this makes them a more convenient choice to face whatever obstacles one might encounter on the road.
· No Extra Bike Required
Owning a mountain bike is advantageous and economical, as you don't need to buy an extra bike for use on the road. Mountain bikes and their parts are also more affordable than road bikes.
Most MTB bike specs make them more durable than road bikes, such as more durable wheels, solid frames, and powerful brakes.
With just a few adjustments, as I will discuss later in this article, you can comfortably use your mountain bike both on the road and off-road.
In Conclusion – Can You Ride a Mountain Bike on the Road?
As shared, mountain bikes are meant for rough terrains, but you can also use them on the road with a few upgrades and adjustments. Now with all the facts, it is up to you to decide whether or not it is worth getting a mountain bike for all-purpose use.
To make the ride more comfortable, I have listed some of the changes you can make on your bike to make your mountain bike more convenient to ride on the road. With them, you can choose to add the feel of a road bike to your mountain bike.
Also Read: