If you have heard of Trek bikes, the question that comes to mind is, are Trek bikes good? Should you spend money on these highly rated bikes, given they cost an arm and a leg?
Trek bikes are good due to their impressive frame technology, great suspension setup, excellent braking technology, and limited lifetime warranty of their bikes.
That aside, Trek bikes also come in various sizes to cater to different age groups and at various price points.
But does this mean that Trek bikes are flawless? Not at all! Trek has its share of concerns that we will look at later, like any other brand.
This guide will give you a balanced and informative view of all there is to know about Trek bicycles. But first, let's look at a brief history of Trek as a brand.
Here we go!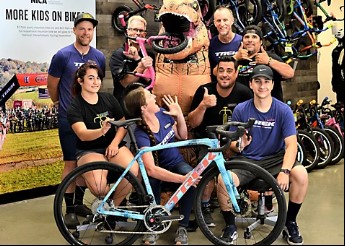 Trek Brief History
Trek Bicycle Corporation, widely known as Trek, is a famous bicycle manufacturing giant in Wisconsin, USA, headquartered in Waterloo. 
Founded in 1975, the company was first known for making bike components and was so famous for manufacturing touring bikes steel frames.
In the 80s, due to increased demand for Trek bikes, Trek started making complete bikes, and some popular options included Garry Fisher, Klein, LeMond, and Villager.
The demand proliferated, which saw Trek grow its wings to manufacturing bikes in China, Taiwan, Germany, and the Netherlands.
Are Trek Bikes Good? The Good and The Bad
The Good
Below are the reasons why Trek bicycles are excellent and worth the money:
1. Impressive Frame Technology 
Trek employs impressive and advanced technology in its bike frames. That makes them durable, strong, and lighter, which every rider wants.
Trek's popular frame technologies include the Alpha aluminum and OCLV carbon technologies. While the Alpha aluminum frame technology helps make aluminum frames lighter and stronger like carbon frames, the OCLV carbon bike frames technology helps make carbon frames lighter and stiffer.
2. Great Suspension Technology 
Trek uses the best bike suspension technology, including Isospeed, RE Aktiv, and Full floater technologies.
For example, when it comes to their road bikes, Trek uses IsoSpeed technology. This technology helps make stiffer road bikes with a compliant, comfortable frame.
On the RE Aktiv side, it's a full suspension technology that gives you an adaptive frame and a dynamic flow when tackling different terrains.
Another impressive groundbreaking technology is the full floater. As the name suggests, this suspension technology makes you feel like you are floating in the air and makes riding on the trails hassle-free.
3. Excellent Braking Technology 
We all look for a bike with a reliable braking system. Well, that's what Trek offers. It offers Active braking patented technology that enables the rear suspension to remain active when you bring the bike to a halt.
The best part is that this technology reduces skids and chatter, thus improving your braking experience.
4. Good Warranty 
If there is one thing that sets Trek apart from competitors is its impressive bike warranties. For example, Trek offers a lifetime warranty for its Bontrager wheels, two years for its bike components, a lifetime warranty for the framesets (including the rigid fork plus frame), and a 5-year warranty for the full suspension swing arms.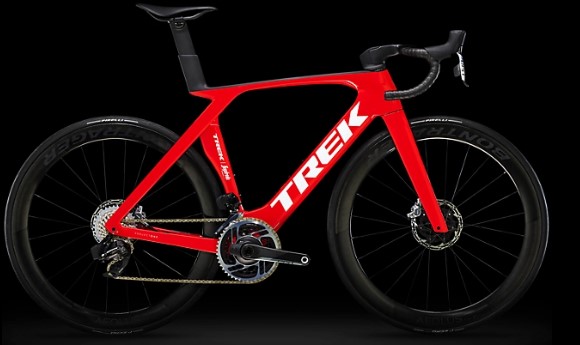 The Bad
As seen, Trek bikes are overall good bikes, making it hard to pinpoint the bad. However, there are two concerns.
One, when it's easy to get a budget Trek bike, like gravel and hybrid bikes, it cannot be said when looking for a budget mountain or road bike.
Second, there is great worry about the gap between the price of high-end budget bikes. But, when the low end is affordable and cheaper, their high-end counterparts are pricey and unaffordable.
Trek Bike Range
Generally, Trek stocks a wide range of bikes, including road bikes, MTB, hybrid, Gravel, Electric, women, and kid's bikes. Let's discuss some below:
Are Trek Road Bikes Good?
Trek has four road bike lines: Emonda, Domane, Modane, and Checkpoint.
While Domane is the low-end Trek bike, Emonda is the high-end option on the other side. So, choosing between the two depends on your cycling level and budget. If you are an entry-level cyclist, Domane will serve the purpose.
On the other hand, if you are a pro, the Emonda road bikes are aerodynamic and come with hydraulic disc brakes, OCLV carbon frames, tubeless-ready wheels, and Shimano groupset that are top tier to give you the performance that you deserve.
What if you are a mid-level cyclist? Well, Trek got you! You can get a Modane Trek road bike that doesn't sacrifice performance or quality.
One excellent pick here is the Madone SLR9 eTap. This Trek Madone road bike has an OCLV carbon frame, aerodynamic wheels, and an electric SRAM drivetrain, making it a great performance road bike. 
Are Trek Mountain Bikes Good?
Trek makes many mountain bikes, including Trail, Cross country, downhill, fat tire, and electric. What's even more impressive is that you can get the freedom to choose either rigid, hardtail, or full-suspension mountain bikes.
These mountain bikes are lighter and have superior suspensions for shock and bump absorptions.
Even entry-level mountain bikes that are budget-friendly, like the Marlin line, command firm suspension and lighter frames making them easy to maneuver.
Are Trek Hybrid Bikes Good?
Doubtless, Trek wins the trophy when blending an MTB and road bike features in one bike. Trek hybrid bikes come with lighter frames like road bikes, making them faster and wider tires just like mountain bikes for easier on and off-road riding.
Even more impressive is that they come with gears for smooth shifting, and the fact that they have an upright geometry (unlike road bikes) is a plus for a more relaxed ride.
One Trek hybrid bike we cannot go without mentioning is the Dual Sport 3. This Trek hybrid bike has puncture-resistant tires, a wide range of gears, and high-end components. The fact that it costs under $1,000 is impressive.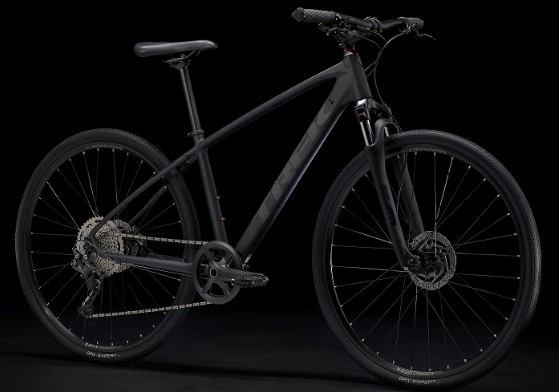 Are Trek Electric Bikes Good?
Trek also makes electric bicycles with strong motors for rough usage and help in speed acceleration. The best part is that these electric bikes have a battery that can hit 70 miles once fully charged. Isn't that breathtaking?
Every rider, including beginners and mid-level cyclists, finds Trek electric bikes simple and easy to control. You can use the bike for both off-road and on-road usage.
So, if you are commuting or want to run errands in town or even take the rugged terrain, these bikes are your favorite pick.
On the downside, as good as trek electric bikes are, the motor produces a loud and annoying noise. Still, these bikes are heavily priced, making them unaffordable.
People Also Ask
1. Is Trek a Good Bike Brand?
Trek is, without a doubt, an excellent and reputable bike brand. Not only does the manufacturer make the bikes, but also other bike accessories, gears, and components.
The bikes are also high quality, and the fact that it offers warranties makes it a good bike brand.
2. Where Are Trek Bikes Made?
Trek bicycles are made in China, the Netherlands, Taiwan, and Germany.
3. Why Are Trek Bikes So Expensive?
Trek bikes are expensive because the manufacturer uses high-quality components and employs advanced technologies in their bikes.
Another thing that makes these bikes expensive is their high demand, and also, since Trek is a sought-after brand, you pay more for the brand name.
Are Trek Bikes Good? Closing Thought
As seen, Trek bikes are good. This is seen in their impressive frame technologies, braking systems, and suspension setups, as well as the limited lifetime warranties of their bikes.
Though the bikes ask for more money, they are worth every penny.
Also Read: