Given the global popularity of BMXing, you probably are considering getting a BMX bike to pursue this exciting sport. But when you research the bikes' prices, you realize that BMX bikes are not everyone's cup of tea. This gets you thinking, why are BMX bikes so expensive?
BMX bikes are expensive essentially because they are strongly built to withstand rough usage, lightweight to be maneuverable, and responsive. Moreover, the bikes have less maintenance and often command a higher price because of the brand name they are associated with.
However, though these BMX bikes are expensive, they are incomparable to mountain bikes, e-bikes, or fat bikes in matters of cost.
This guide will look at why BMX bikes are so expensive and answer if you should get a complete BMX bike or build one. And since not all BMX bikes are expensive, I'll share some low-cost options on the market with you.
But first, let's answer our title question:
Why Are BMX Bikes So Expensive? The Actual Reasons:
Below are five key reasons why BMX bikes are expensive:
1. BMX Bikes Are Strongly Built
BMX bikes are solid to withstand and endure everything you throw at them. So for this reason, BMX bikes are flexible to withstand dirt trails, streets, and state parks.
Because of their robust build, the bikes can take lots of pressure, which explains why these bikes are best for performing tricks and stunts.
Unlike many bike models that can break easily when subjected to harsh usage, BMX bikes are highly adaptable because of their tougher build.
And as we all know, a more robust bike build translates to durability. So, not only are BMX bikes robust, but you can be sure they will last you longer if you pick a good option.
So, one main reason why BMX bikes are expensive is that you pay the extra pounds for their strength and endurance.
2. BMX Bikes Are Lightweight
If you are looking for a bike you can win races with or perform stunts, tricks, and high jumps, you will surely need to look for a lighter bike.
The good news is that a BMX bike offers you all these and much more. BMX bikes come with durable, lightweight frames that make maneuvering more comfortable.
Though most BMX bikes come with a Chromoly steel frame, it is much lighter. And just to set the record straight, Chromoly alloy steel frame is much more durable and stronger than carbon steel and promises to last you longer, thus economical.
3. BMX Bikes Are More Responsive
Compared to other bikes, BMX bikes are exceptionally responsive. That is a good thing for those who want to ride the extra mile, as you can do it with a BMX bike without the fear of the bike breaking down.
This factor also allows the pro performers to perform with confidence and courage as they can do it in any way they like. That's why you find BMX bikes with fat price tags.
4. BMX Bikes Have Low Maintenance
Generally, BMX bikes come in a simple design. They usually feature fewer components, and this makes their maintenance simple.
For example, BMX bikes come in single speed. That means that they have only a single gear which is cheaper to service and keep in good condition. So, because they are easier to maintain than other bikes, they cost much more than high-maintenance bikes.
5. BMX Bikes Are Expensive Because of the Brand Name
Many people don't know this, but the truth is that BMX brand names usually have a say in the bike price. To shed more light, brands like Mongoose, Elite, Diamondback, or WeThePeople are popular and reputable, and so their bikes tend to cost much more than other less known brands.
Riders like buying brands, and once a BMX brand name is famous, many riders will pay for the bikes. Often, the manufacturers and retailers take advantage of their reputation to price their BMX bikes much higher.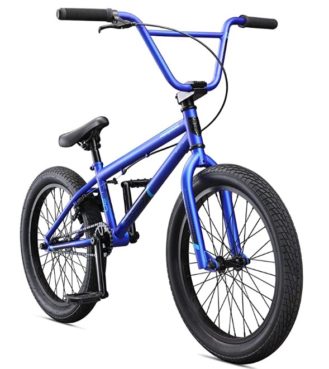 How Much Does A BMX Bike Cost?
Well, BMX bikes come in 3 major types. Each type performs differently, and so their prices also differ.
We have the freestyle BMX bikes, the race BMX bikes, and the cruiser BMX bikes. You can rest assured that there is a BMX bike for everyone, even those tight on budget.
However, be wary that most budget BMX bikes come in low-quality components. But there are also some decent, affordable options that you can get, and you don't have to break the bank to own one.
However, the most expensive BMX bikes are from reputable brands like WeThePeople and Mongoose. You should expect to spend an average of $1,500 buying a bike from these high-end brands, but you can be sure that the bikes come with the most high-end components and should serve you for a long time.
However, if you are a beginner looking for a decently priced bike without compromising quality, you should expect to spend at least $500 – $1,000.
Check out the price estimates of BMX bikes in the table below:
| | | |
| --- | --- | --- |
| Price Range | Suitability | Cost |
| Budget | Beginners and Kids | $250 – $500 |
| Mid-range | Regular riders | $500 – $1,000 |
| High-end | Pro-riders | $1,000 – $1,500 |
Are There Affordable BMX Bikes?
On the flip side, there are BMX bikes at every price point. So, if you are tight on budget, you can still find a BMX bike that is good quality.
However, they are not the most high-end, and some pro riders overlook them. But they are good entry-level choices that suit beginner riders well.
Below are three fantastic and affordable BMX bikes that fall under $500:
Mongoose Title Elite Pro BMX Bike (View on Amazon). This race, BMX had a lot to bring to the table. It performs decently and targets both intermediate and pro riders. 
Mongoose Legion BMX Bike (View on Amazon). This 20-inch freestyle BMX bike is best for riders of all levels. It is better suited for riders who are 4'8¨ – 5'4¨ tall
Schwinn Sting Pro And Predator (View on Amazon). This cruiser BMX bike targets riders of all cycling levels. It's a good street racer that you can ride casually on urban roads and even perform stunts.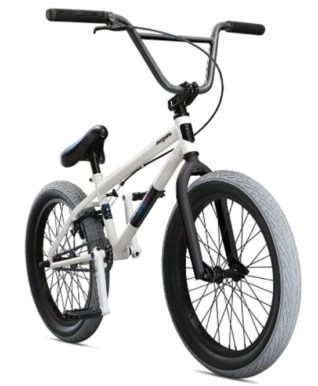 Is It Cheaper to Build or Buy A BMX Bike?
First, it's good to mention beforehand that building your BMX bike will cost you around $1,000 – $2,000. Yes! It is that expensive.
You are wondering why? Well, just to mention the frame, a reasonable frame should cost you roughly $450. So, when you sum up the other parts, the price may go way up.
However, this is a consideration for pro riders who want to make the bike fit their cycling needs. But still, if you prefer going this route, you should opt to buy second-hand and can accessorize it to your needs and style.
That said, it's way cheaper to buy a complete BMX bike rather than build one. Even better, a complete BMX bike comes ready to ride.
So, if you are on a budget and are a beginner, you should go for a complete BMX bike. It will not only save you money, but it will also serve the course.
People Also Ask
What Is Special About A BMX Bike?
As discussed above, BMX bikes are unique for four chief reasons. They are lightweight, robustly built, responsive, and easy to maintain. So, for these specific reasons, BMX bikes are considered unique.
What Is the Most Expensive BMX in The World?
The most expensive BMX bike today is the WeThePeople Envy BMX Bike. This bike costs $1,550 on average, and it comes with the most high-end components.
Why are BMX Bikes Expensive?
BMX bikes are expensive because they are strong, lightweight, and highly responsive. Also, other factors like ease of maintenance and the brand's name make BMX bikes expensive.
Are BMX Bikes Worth It?
BMX bikes are, in all sense, worth it. They are adaptable and strongly built to seamlessly take on unpredictable and rugged terrains.
Their lightweight also makes maneuvering in urban areas seamless and also makes them better stunts and jump performers. Lastly, their responsiveness and versatility make them rideable for longer.
Why Are BMX Bikes So Small?
BMX bikes are usually so small because they come with smaller wheels and low seats, and that's why they are considered best for performing stunts and high jumps.
And as every pro performer will tell you, a smaller bike is best recommended for high jumps. So, BMX bikes are small to serve the purpose.
Also Read:
How Much Does a BMX Bike Cost?
Why Are BMX Bikes So Expensive? Final Remark
As seen, BMX bikes come with a costly price tag. That is because they are more responsive, lightweight, and strongly built. Still, the brand name has a say on why BMX bikes are expensive.
But if you are a beginner rider, there are still affordable options that you can get without compromising on quality. You just have to shop with a hawk-eye to discover them.