Fat-tire bikes date back to the 90s. But since 2015, these bikes have steadily gained popularity. But before you can make a conclusive decision about buying one, it's good to ask, 'what is a fat tire bike good for?'
Fat bikes are good for riding on diverse terrains, especially technical ones like snow, beaches, mud paths, forest trails, and gravel surfaces. These bikes are also worth it if you plan to ride all seasons, exercise, or commute casually.
Overall, fat-tire bikes are worth it because of their knobby fat tires, making them easier, comfortable, and fun to ride. Moreover, these bikes require less maintenance and encounter fewer flats, which is a huge plus.
After reading the above statement, you probably think, 'these bikes must be excellent'. Well, as impressive as these bikes are, they also have a few concerns that I will be sharing later in this post.
You'll then compare their pros and cons to determine if the bikes are really worth it. But as you can read from my earlier declaration, these bikes are a good investment and worth it.
But overall, it depends on what you want from a fat bike, which brings us to our next segment – 'what fat bikes are good for'.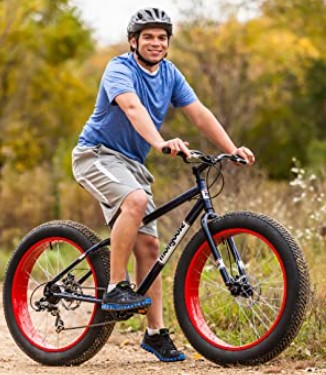 In a rush? Check out the hotlist below for our most recommended fat-tire bikes:
5 Best Fat Tires Bikes That Are Worth It
Mongoose Malus Fat Tire Bike – Best Fat Tire Mountain Bike For Men
Krusher Dynacraft Fat Bike – Best Budget Fat Bike
Mongoose Argus Fat Bike – Best Kid Fat Bike
Avasta 20-Inch Fat Bike– Best Fat Bike For Big Kid
Wallke H2 Electric Fat Bike– Best Folding Fat Bike
What Is a Fat Bike Good for?
Fat bikes are known so because of their broad (3.5-5-inch-wide) tires. Their broadness makes them more stable, easier to control, and less puncture-prone. Even better, the fat tires are knobbier, making them comfortable on various terrains.
Overall, the fat tires make fat-tire bikes best suited for the following:
1. Riding on diverse terrains
Fat bikes come with knobbier tires that can take on a variety of terrains. Whether a smooth or rough road, you can do it with a fat-tire bike.
2. The most technical terrains
Fat bike tires are not just good for taking on a variety of terrains, but they are better suited to the most technical ones. From snow surfaces and mud roads to gravel surfaces and forest trails, you can go through them all with a fat-tire bike.
3. Riding all seasons
A fat-tire bike is the kind of bike you can ride all year. The tires quickly go over wet surfaces, including rainy and snowy days. You can ride along the beach in the summer and take the snowy roads in the winter with a fat-tire bike.
4. Casual riding
Fat-tire bikes are not fast; let's get that straight. For that reason, they are considered casual bikes. You can ride this bike around town any time for fun.
Whether you want to run errands, join your kids for a bike adventure or explore the rocky neighborhood, you can do that with a fat bike.
5. Exercising
Since fat-tire bikes are heavier and not fast, you may need extra effort, making them suitable for exercising. The more you ride a fat bike, the more you burn the extra calories.
6. Slow commuting
If you want a fast commuter bike, a fat bike is not one of them, apart from electric options like the Wallke H2 Electric Bike. Most of these bikes offer you a slow but convenient way to commute.
Is A Fat Tire Bike Worth It?
Having looked at what a fat-tire bike is good for, the next question is, should you get it? Is it worth it? And to answer that, we've to discuss its pros and cons.
Fat Bike Pros and Cons
Pros of Fat Tire Bikes (Why A Fat Tire Bike is Worth It)
Below are some of the things that make fat-tire bikes a fantastic buy:
1. Fat Bikes Are Easier to Ride
One outstanding quality of fat tire bikes is how easy they are to ride on any terrain. Unlike regular cycles, their large and broader tires give you more control and balance.
So, if you are a beginner, you need a bike that you can ride easily to boost your confidence, and that's what a fat bike is all about.
2. Fat Tire Bikes Are Versatile
If you are looking for versatility in a bike, a fat bike ticks the box. These bikes are all-terrain and all-weather bikes. They can go just anywhere.
Just a bit of history, fat-tire bikes were first designed for snow riding. Later, more advancements in their parts, especially the frame, have made them all-season bikes and rideable even in summer.
Like mountain bikes, fat bikes can tackle the off-road easily as their tires give them an extended grip and excellent traction.
Their wider tires give them an upper advantage in riding on sand, mud, gravel, rock, dirt, and pavements.
3. Fat Tire Bikes Are Comfortable
Another feature we all look at when buying a bike is the comfortability of the ride. One bike that comes to mind when comfort is concerned is a fat tire bike.
The fat tires have a large volume which translates to low tire pressure and thus absorbs shock maximum.
The good news is that you can lower the tire pressure to 7 psi if you want a more comfortable ride. Note that the lower the tire pressure, the more the ride's comfort.
4. Fat Bikes Are Fun to Ride
If you want a two-wheeler that brings back the joy and the memory of your first ride as a kid, it's a fat bike. Riding the bike is not only fun but enjoyable too.
You can ride them slowly or fast. So, you can take that leisure ride you've always wished for with a fat bike better than with other bikes.
Another part that makes you have fun riding is that fat tire bikes can go places other bikes can't. So, you can take the adventure ride to the forest trails and mud easily with a fat bike.
5. Require Less Maintenance
One thing for sure is that maintaining these bikes is easy. For one, they come with a simple frame. Their wider tires also act as shock absorbers, so they don't require any additional suspension you need to take care of.
Even better, most fat bikes come in a single-speed. That means fewer shifting components to maintain.
6. Lesser Puncture
An upper advantage of these bikes is that punctures and flat tires will be bygones, unlike regular mountain bikes. Are you wondering why?
Fat tire bikes have low pressure, which means only a little force is exerted on the ground.
When we talk about fat tires, the word fat stands true to its meaning. The tires come with a thickness of 4 – 5 inches, while the rim comes with a thickness of 3 – 4 inches. This thickness means one thing – strength, making them less objective to punctures and flats.
However, note that if you continuously take your bike to thorns, you can encounter a flat tire, but unlike other bikes, you will experience fewer punctures with a fat bike.
7. Best Pick for Beginners
If you are a beginner, a fat bike is your go-to bike. They are forgiving when riding on rugged terrains, which gives you a comfortable ride.
Their wider tires give you maximum traction and stability, especially when trying out.
Cons of Fat Tire Bikes
Below are some disadvantages of fat tire bikes:
a) They Are Heavy
Just from their name, fat means one thing. They are heavy. These bikes come with oversized tires, rims, and tubes, making them heavier than other bikes.
Averagely, you'll find fat bikes weighing 30 -40 pounds, which is a significant setback if you are looking for a light bike.
Compared to other bikes, a fat bike weighs 15% more than a mountain bike and double the weight of a road bike. So, simply put, these bikes are heavy.
b) They Are Expensive
Another concern is their price. They cost more than other bikes. However, given the specialty of their components like tubes, rims, and wide tires, which don't come cheap, their price is just a bargain.
Even though it's possible to get a decent budget fat bike, some standard options cost $1,500 on average. But given their wide versatility and less maintenance, it's worth investing in a fat tire bike.
However, there are also budget options, so you should not feel left out if you are tight on budget.
One top recommendation for a budget fat tire bike is the Krusher Dynacraft Fat Tire Bike. This bike speaks for itself with the impressive customer satisfaction rating in the customer review section.
c) They Are Slower
As seen above, fat bikes are heavier. So, you should expect them to be slower, too, which can be annoying if you are looking for a fast bike. But this is a blessing in disguise for the old folks who need to have slow leisure rides.
Again, the heavier and slower they are also mean they are harder to ride. You will need so much energy to pedal, but they are just a safe wager if you want to shed some weight.
Is A Fat Tire Mountain Bike Worth It?
Fat tire mountain bikes accomplish much more than ordinary mountain bikes. As seen earlier, these bikes are all-terrain, and they even ride to places where no bike can.
The fat knobby tires have better treading, giving you better traction and enabling you to take the rough trails comfortably.
The fat tire mountain bikes also promise comfortability and fun riding over the most challenging obstacles. You can ride them in the deep snow and loose sand easily.
The wider tires also act as shock absorbers, and you won't have to worry about bumpy potholes.
One fantastic recommendation for a fat mountain bike is the Mongoose Dolomite Men's Fat Tire Mountain Bike.
This 26-inch fat tire mountain bike is known as an off-road trail conqueror. It takes the snow, dirt, mud, and even the city rides comfortably and is ideal for 5'6″ – 6″ tall men.
Is A Fat Tire Folding Bike Worth It?
If you are a daily commuter who is also a fat bike diehard, there's a folding bike fat tire for you. These folding bikes give you the pack-ability you need when going to the bus, train, office, or even if you live in a small space.
One top choice is the Wallke H2 Folding Fat Tire Bike. This bike goes on-road, on the gravel, and on the trails seamlessly.
Is A Kids' Fat Tire Bike Worth It?
Most kids need balance when training with their bikes. The wide fat bike tires give them balance and stability.
Also, the broader tires absorb shock and give your kid a smooth ride without a wobble on rugged terrains.
Our most recommended kids fat tire bike is the Mongoose Argus Kids Fat Tire Bike. This bike comes in 16-20-inch wheel sizes to fit kids from 3 years who are 38-48 inches tall.
But if you have a big kid or a teenager, they will require a bigger bike like the Avasta 20-inch Big Kid Fat Tire Bike.
This bike fits perfectly for kids above six or 4-5 feet tall. Consequently, if you want your kid to accompany you to the adventure rides, get one of these bikes according to their height or age.
People Also Ask
1. Are Fat Bike Tires Better?
By far and wide, fat bike tires are way better than regular ones on challenging terrains. The wider tires give you better traction and stability, are excellent riders in many diverse landscapes, absorb shock, and are not prone to punctures like regular bikes.
2. Are Fat Tire Bikes Harder to Ride?
While the wider fat bike tires give the rider more traction, it comes with a setback in being heavy. The heavier the two-wheeler, the more effort you will need to keep it in motion. So, unlike regular bikes, fat tire bikes are harder to ride.
3. Are Fat Bikes Good for Beginners?
Though these bikes require more effort to pedal, they are beginner-friendly. The wider tires give them more stability and balance, making them more comfortable for beginners than regular bikes.
They are also forgiving when riding them on bumpy and rugged terrains as their knobby tires absorb shock.
4. Should I Buy a Mountain Bike or a Fat Bike?
Buying one of the two bikes remains a personal decision. However, if you want a lighter bike to take on trails, gravel roads, and occasionally the streets, you can go for a mountain bike.
However, if you want a bike that can do much more, an all-terrain bike that can tackle the loose sand, thick mud, rocky grounds, and deep snow, a fat bike will be a good pick. The bicycle will, however, feel heavier and slower than an MTB.
In Conclusion – What is a Fat Tire Bike Good For?
A fat bike is worth it and goes to places no other bike can. They are all-terrain bikes that seamlessly conquer mud, soft and loose sand, deep snow, forest trails, dirt paths, and rocky terrains. Yes, they are heavier, slower, and can even be expensive, but their pros undo their cons, making them worth every penny, and good for a variety of terrains.
Relevant: