With a reputation stretching over a century, Schwinn is one of the most popular bike brands today, especially for the average buyer. The manufacturer makes a wide range of bikes for all ages and functions, but one question everyone asks is, are Schwinn bikes good?
Schwinn bikes are good for beginners, casual riders, and recreational cyclists because of their innovative designs, reliability, ease of riding, bike variety, and affordability. The discount options, however, are not good for serious riders due to their heaviness and slightly low-end specs.
So, like every other bicycle brand, Schwinn has its bright and dark side – good and bad, and it's a matter of weighing the sides. Once the positive outmuscles the negative, as in Schwinn's case, we have to conclude they are good.
Don't take my word for it until I thoroughly review the good and the bad. So, let's get into it. But first, let's talk about who should get a Schwinn bike.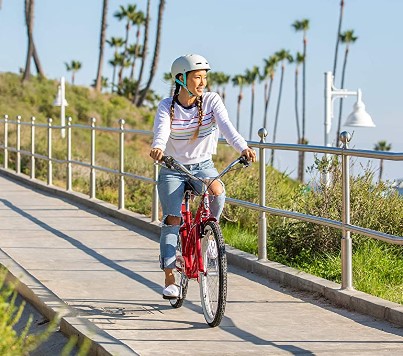 In a rush? Below are my most recommended Schwinn bicycles for your consideration:
5 Hottest Schwinn Bikes for Sale
Schwinn High Timber Mountain Bike – Best Schwinn Mountain Bike
Schwinn Fastback Tourney AL Road Bike – Best Schwinn Road Bike
The Schwinn Discover Hybrid Bike – Best Schwinn Hybrid Bike
Schwinn Sanctuary 7 Cruiser Bike – Best Schwinn Cruiser Bike
Schwinn Koen & Elm Kids' Bike – Best Schwinn Kids Bike
Why is a Schwinn Bike Good for?
Schwinn bikes are not suitable for everyone. These bikes are not for serious riders, especially those hoping to compete with them. They are also not ideal for professional racers or climbers because they are not high-end, as I'll explain later.
They are, however, ideal for the following groups of people:
Beginner riders – Includes kids and adults who are only starting their cycling journey or don't have lots of experience
Casual bikers – Those who occasionally ride either to run errands, commute, or trail adventures
Recreational cyclists –Those who ride for fun, especially around town
So, if you fall in any of the cycling categories, then, yes, you should get a Schwinn bike. More importantly, if you are on a budget and want a bike you can ride for some time, then a Schwinn bicycle is a safe bet.
Why Schwinn Bikes Are Good
Are you wondering what makes Schwinn bicycles good? Well, the reasons include these five:
1. The Bikes Are Innovative
Schwinn encompasses innovations in their bike manufacturing. For example, when it comes to kid's bikes, Schwinn uses the Smart Start technology to make the kid's bike easier to cycle, maneuverable and forgiving on harsh terrains.
Meanwhile, if you are looking for riding comfortability more than anything else in a bike (especially if you are aged), Schwinn uses the Smooth-Ride Technology (SRT). This technology gives the rider utmost ride comfort while reducing fatigue.
2. Schwinn Bikes Are Reliable
There are different ways to define bike reliability. For me, reliability is about a bike that promises quality parts and ease of finding replacements, and that's an area you cannot fault Schwinn.
Its bikes may not have the most high-end parts, but they are solid and tough to serve you longer.
And when they break down, you can find their replacements easier. Even better, Schwinn warrants most of their bike frames for life, which confirms their reliability.
Also, given that Schwinn has existed for a century, the company must be reliable, in my view.
3. The Bicycles Are Easy to Ride
The reason why Schwinn bicycles are suitable for beginners and kids is that they are easier to ride. You don't have to be very skillful to maneuver a Schwinn cycle.
Kids find them easy to get onto and steer around, and adults find them comfortable to ride on slightly challenging terrains.
4. Schwinn Bicycles Are About Variety
Schwinn has been relevant for this long because of their expansive inventory. The manufacturer stocks a wide range of bicycles to match the needs of different cyclists.
Schwinn has them all, from mountain bikes to road and hybrid bikes, and kids can even get balance bikes as older citizens have access to tricycles and e-bikes.
And series-wise, Schwinn stocks two lines: Signature and Discount.
The signature series comprises high-end bikes that are best for professional cyclists and are available on the company website.
Meanwhile, the discount series is for budget buyers, notably casual and beginner riders, and you can get them on retail shops like Amazon.
5. Schwinn Bicycles Are Affordable
For someone on a budget, Schwinn has to be a top consideration. As an adult, you can get a budget Schwinn bike for $300-$600, while kids can get theirs for under $300.
Why Schwinn Bikes May Not Be Good for You
As good as Schwinn bikes are, they have a few shortcomings, especially the discount options, which include:
The bikes are heavy – Since Schwinn bikes are affordable, manufacturers often go for heavier frames. You are likely to find these bikes heavier than high-end alternatives.
Some specs are low quality – Some of the bikes' specs are slightly low-quality. You may have to upgrade them if you are serious about cycling, including the seat, brakes, tires, and pedals.
Not ideal for serious riding – If you are a casual biker, commuter, or recreational cyclist, you'll have no problem riding a Schwinn bike. However, a Schwinn bike may not be ideal if you intend to compete. For starters, the bikes are heavier and feature slightly low-quality specs.
Note: Remember, we are talking about the Schwinn discount series. It's a different story regarding the signature series as the bikes are more high-end and befit serious riders.
Schwinn Bicycle Range Reviewed!
As stated above, Schwinn has a wide range of bikes. Let's have a look at them below:
Are Schwinn Mountain Bikes good?
Schwinn makes the signature mountain bikes resilient, high quality, and durable. The Schwinn mountain bikes ride hassle-free on potholes, mud, gravel, and trails.
These bikes come with knobby tires that give you a better grip when riding on sloping hills or steep terrains. The frames are also reinforced and have pronounced suspension forks for impact absorption.
One Schwinn mountain bike is the Schwinn High Timber Mountain Bike. This Schwinn mountain bike comes with an aluminum frame, thus lightweight and wide knobby tires that make riding in any terrain and all-weather fantastic.
Are Schwinn Road Bikes Good?
Regarding road bikes, Schwinn road bicycles are something to die for. They come with thin frames that give you a fast and aerodynamic ride, skinny tires, and lightweight drop bars that promise free-positioning of the hands. All these features make riding on paved roads more manageable.
If you want a decent low-priced Schwinn road bike, the Schwinn Fastback Tourney AL Road Bike is a proper choice. This Schwinn road bike comes in both aluminum fork and frame, thus lightweight, and its 700c wheels are comfortable for riders who are 5'4″ – 6'2″ tall.
Are Schwinn Hybrid Bikes Good?
If you are an avid cyclist looking for a multipurpose bike, get a Schwinn hybrid bike. These bikes are durable, comfortable to ride, and versatile to take on an array of terrains.
Even if you are inexperienced, you can count on these cycles to give you a good ride. Interestingly, Schwinn offers a step-thru and a step-over frame design to suit both genders, giving you a more straightforward choice.
However, the price difference between a Schwinn hybrid signature and discount models is massive. While you can get a decent budget Schwinn hybrid at around or under $500, you are likely to spend an average of $3,499 on a high-end signature series option.
But if you don't want to go cheap or high, you can get a mid-range option like Schwinn Discover Hybrid Bike. This Schwinn hybrid bike suits both genders and comes in multiple colors.
Are Schwinn Cruiser Bikes Good?
A cruiser bike should come into the picture if you want a two-wheel with a retro design, balloon tires, wider handlebars, and low frames.
Cruiser bikes are best for casual riding on the beach or the paved roads. Though speed is never a tick for these bikes, they give you a comfortable ride.
One Schwinn cruiser to get is the Schwinn Sanctuary 7 Cruiser Bike. It's an excellent design with unique elements like a cushy saddle, rear seat, and full fenders to keep the mud out.
Are Schwinn Kids Bikes Good?
Regarding kid's bikes, Schwinn has your kids' interests at heart. The manufacturer produces two kid's bikes, the balance bikes, and the training wheel bikes, which are made more robust and more comfortable.
So, if you have a two-year-old, you can get them the Schwinn Balance Bike. This balance bike allows your toddler to learn how to balance while the foot is in contact with the floor. The bike is also lightweight and suitable for kids aged 2 – 4.
But if you have an older kid who has already mastered the art of balancing, the Schwinn Koen & Elm Kids Bike is what to buy. This bike comes from 12 – 18 inch wheels and is best for kids between the ages of 2 – 9 years or 28 – 38 inches.
Other Bikes That Schwinn Makes
Schwinn doesn't just stop there. The manufacturer also makes electric bikes, folding bikes, and tricycles.
A good pick is the Schwinn Marshall Electric Bike if you want a Schwinn electric bike. But if you want a commuter folding bike to aid with going to work or school, you can get the Schwinn Loop Folding Bike.
However, if you want a bike you can cycle to the market with and carry some groceries, the Schwinn tricycle is the bike to get. One tricycle to consider is the Schwinn Meridian Tricycle Bike.
People Also Ask
1. Why Are Schwinn Bikes So Expensive?
Schwinn bikes aren't expensive unless it's the discount series. As far as the discount series is concerned, the bikes are affordable.
But when it comes to the signature series, the bikes are expensive because they are more high-end, more durable, and more reliable, befitting serious riders.
2. Which Schwinn Bike Is the Best?
Below are some of the best Schwinn bikes that you will find on Amazon.com:
Schwinn High Timber Mountain Bike – Best Schwinn Mountain Bike
Schwinn Fastback Tourney AL Road Bike – Best Schwinn Road Bike
The Schwinn Discover Hybrid Bike – Best Schwinn Hybrid Bike
Schwinn Sanctuary 7 Cruiser Bike – Best Schwinn Cruiser Bike
Schwinn Koen & Elm Kids' Bike – Best Schwinn Kids Bike
3. Are Schwinn Bikes Worth Money?
Without a doubt, Schwinn bikes are worth what you pay. These bikes encompass three qualities; durability, comfort, and performance. Moreover, if you are tight on budget, Schwinn has discount options that fit the bill and are pretty decent.
4. How Much Is a Schwinn Bike Worth?
Schwinn bike prices are categorized according to their series. Discount series bicycles cost as low as under $500, while signature series cost as much as $2000 or above, and you can get them from the Schwinn website.
5. Are Schwinn Bikes Good Quality?
Schwinn produces two bike series. You can choose a signature series if you want quality, durable, and high-end options. But if you are tight on budget, you can buy the discount option. However, they are not the best in quality.
6. Is Schwinn Better Than Mongoose?
Schwinn and Mongoose offer almost the same types of bikes and price their bikes almost identical. However, Schwinn offers a more comprehensive entry-level bike range than Mongoose, but Mongoose offers more high-quality options.
In Summary – Are Schwinn Bikes Good?
As seen, we can comfortably say that Schwinn bikes are good. Their innovative designs, reliability, variety, riding ease, and affordability make them good.
They may have a few upsets, but that doesn't make them bad. So, if you are a casual biker, recreationist, beginner, or just a budget buyer, Schwinn bicycles are good for you.
Relevant Posts: