A bike giant with a garage startup success story – that's Mongoose BMX bikes for you. While they're in good history books, are Mongoose BMX bikes good?
Mongoose BMX bikes have gained fame for their high-quality construction, simplicity, durability, and reliability. With their excellent handling and ease of repair, these bikes are a straight hit for both professional and casual riders.
As with most other BMX bike manufacturers, Mongoose has dabbled their hands in various bike types – with much success. The company also manufactures mountain bikes, urban bikes, kids' bikes, and scooters.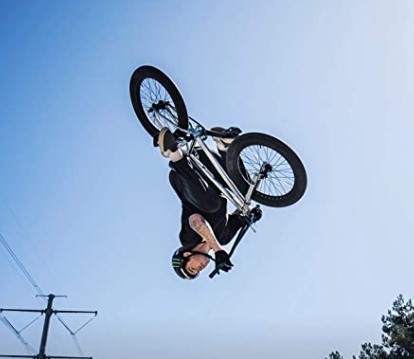 In a rush? Below is our hotlist of the best Mongoose BMX bikes out there.
4 Best Mongoose BMX Bikes
Mongoose L500 – Best for BMX Freestyle
Title Elite 24 BMX Race Bike – Best for BMX Racing
Mongoose Title Elite Pro – Best for Elite Riders
Mongoose L16 Freestyle – Best for Little kids
We will delve into each of these bike categories later in this article. First off, though, is the brand history.
Brand History
In September 1974, Skip Hess started BMX Products, Inc. from his California home garage. From here, Mongoose BMX bikes were designed, manufactured, and first sold to the public in 1975.
Success followed, and Mongoose acquired a new location in Los Angeles. With this acquisition, BMX Products, Inc. intensified its production, churning out a whopping 600 bike frames a day! Their personnel also grew to include a staff of about eighty-five people.
In 1985, Mongoose was sold to an American group and marketed by Service Cycle, a subsidiary of American Group. Economic downturns, competition, and strategic acquisitions saw Mongoose sold several other times, including to Pacific Cycle in 2000 and Dorel Industries in 2004.
In October 2021, an Amsterdam-based company, Pon Holdings, acquired Dorel Industries to form a leading bicycle company with a revenue stream of over 2.5 billion euros! Despite this acquisition, though, Mongoose still sells under Pacific Cycle Inc.
Mongoose currently has their headquarters in Madison, Wisconsin, U.S.
With the brand history done, let's review why Mongoose bikes are outstanding.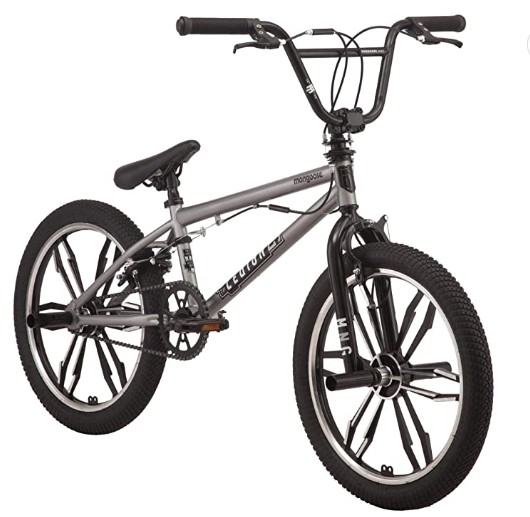 What Makes Mongoose BMX Bikes Good?
Here are reasons why Mongoose BMX bicycles are worth it:
1. High-quality construction
Mongoose made their products while most bike manufacturers started by outsourcing bike parts and components. Their original manufacturing division played a considerable role in producing high-quality parts. They even supplied components and built custom-made bikes for riders from competing BMX teams!
Skip Hess, the founder of Mongoose, saw a gap in the quality of bikes required to handle the demands and abuse that stemmed from proper BMX riding. And he acted by designing and manufacturing BMX bikes with sturdy frames and improved components.
Mongoose has maintained this tradition to date. Their BMX bike frames are triple-butted, high-end steel or aluminum. The bike frames are better equipped to handle the abuses synonymous with BMX biking.
2. Cost-effective pricing
Mongoose BMX bikes have always been reasonably priced.
Presently, their discount line of products found on giant online retail platforms such as Amazon is a great deal. For under USD 500, finding a bike that offers excellent value is guaranteed. Specialty bikes for professional riders are available in specialty bike shops and Mongoose's website at reasonable prices.
3. Durability
In the early days of BMXing, frames snapped, and wheels got damaged easily and regularly. During this time, Mongoose BMX founder, Hess, introduced the Motomag – a cast-magnesium bike wheel with a revolutionary design. He supplied a BMX race team with it to prove the wheel's abilities.
This ingenious marketing strategy worked like a charm. Soon, all most kids wanted for a BMX bike wheel was the Motomag. And for a good reason. It was durable and could handle the heavy demands of BMX racing.
Mongoose employs modern technologies to produce quality and durable bikes and components.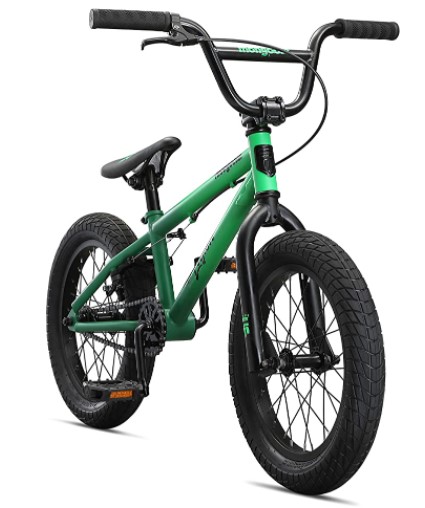 4. Reliability
Mongoose has been a dominant player in the BMX bike industry for more than 45 years. Logically, that length of time is more than enough to prove the reliability of Mongoose bike models.
Additionally, their high-quality construction standards guarantee the production of durable and reliable bikes. Mongoose BMX bikes are some of the most reliable if used as intended.
5. Ease of control and handling
The Mongoose BMX bikes founder had a racing background. And in racing, control is everything. True, speed also matters. But imagine the efforts required to handle a fast but uncontrollable horse. Quite the challenge, right? But that's a story for another day.
The geometry of Mongoose bikes, particularly race bikes, allows for easy handling and control.
All those factors mentioned above, and more, make Mongoose bikes a darling for many. So if you're out looking for a bike, here's a review of a few Mongoose BMX bikes for your consideration.
Mongoose BMX Bikes Review
Here are the best Mongoose BMX bicycles on the market:
1. Mongoose L500 – Best for BMX Freestyle
A complete freestyle BMX bike that's down for any of your niche ridings – be it Park, Street, or Dirt. The L-500 features a strong and durable 4130 Chromoly frame.
It also has a 21" top tube length for riders that are 5'8" plus. Its Chromoly handlebars, forks, and thread-less, integrated headset guarantees optimum steering capabilities.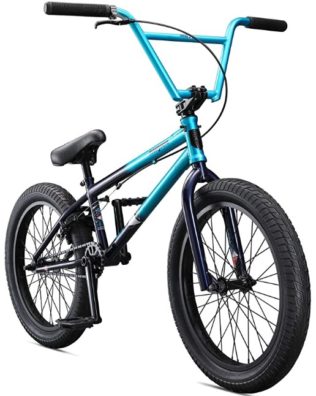 The Mongoose Title Elite pro is a leveled-up version of the Title series. It comes in three categories for different rider heights.
Title Elite Pro – For riders between 5'3" – 5'8" tall
Elite Pro XL – For riders between 5'7" – 6'0" tall
Elite Pro XXL – For riders taller than 6.'
This bike has a neat look. It features internal cable routing on a lighter but stronger hydroformed and butted professional-grade aluminum frame. Hydroforming is a process of using fluids under pressure to vary bicycle tube frame shapes and thickness. The process rounds the tubes in the middle and flat on the edges for easy welding and vibration absorption.
The Elite Pro has a tapered head tube to enhance stability and improve handling. The result is a more efficient ride.
The wheelset comprises high-quality 20-inch Arisun BMX race tires on double-walled Xposure aluminum rims.
You will no doubt blow your opposition to dust with this bike.
If you want to bolt out hot once the Race Gates open, the Mongoose Elite 24-inch BMX is what you need. This bike is capable of high-end performance and has the right components to prove it.
The Title Elite 24 features the professional-grade 6061 hydroformed and butted aluminum frame. An aspect that makes the frame super light but sturdy.
Its Chromoly handlebars, forks, and threadless head tubes beautifully combine to offer precision riding with optimized performance.
The Elite 24's drivetrain consisting of 42×18 teeth with a two-piece aluminum crank, efficiently transfers your pedal input into motion. This drivetrain also enables you to ride at a higher cadence, thus increasing the time it takes for muscle fatigue to kick in.
Your success in the races you participate in will love you for it.
Whether you're an elite rider or returning to the BMXing world, the Mongoose Title Elite 24-inch BMX is worth consideration.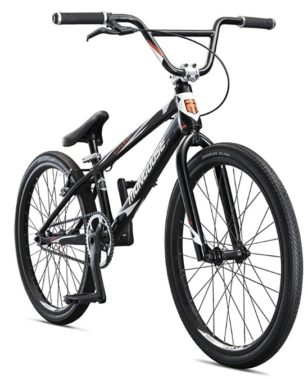 4. Mongoose L16 Freestyle BMX (View On Amazon) – Best For Little Kids
The Mongoose L16 stands as one of the best ways to introduce your kid to BMXing. This bike has a lightweight but durable frame, high tensile steel handlebars for precision riding, and comes with rear brakes. It is designed for children 3'6" and below.
Do They Still Make Mongoose BMX Bikes?
Mongoose still designs and manufactures BMX bikes for Race and Freestyle niche riding. They also produce and sell BMX bike frames for enthusiasts that want to build their bikes from the ground up.
Mongoose bikes cater to riders of all ages and capabilities, including the world's leading professional riders.
How Big Is A Mongoose BMX Bike?
Several factors determine the size of a BMX bike: the material used to produce the frame, the frame size, and the wheel diameter.
Generally, most adult BMX bikes weigh 23.6 pounds on average. Bikes for professionals could weigh less or more depending on the riding category.
Bikes with 20-inch wheel diameters are smaller and lighter than their broader counterparts. The larger the wheel, the more materials used. Hence, more weight. While this might be the general rule for wheel diameter, keep in mind that exceptions do exist.
BMX bikes have varying frame sizes with different top tube lengths to enable riders of various heights to enjoy BMXing. Mongoose bikes have top tube lengths up to 21.77 inches. Custom-built Mongoose bikes might have longer top tubes.
People Also Ask
Where are Mongoose Bikes Made?
Entry-level Mongoose bikes are manufactured on contract in China. Bikes for professional and expert riders are produced in Taiwan and other Asian countries.
However, the bike assembly takes place at their headquarters in Madison, Wisconsin, U.S., or at one of their distribution centers.
Are Mongoose Bikes Good?
Mongoose bikes, especially the BMX options, come in good construction, are easy to ride, pretty affordable, and versatile. You can take on a variety of outdoors with a Mongoose bike and that makes them good.
Is Mongoose a Good Bike Brand?
Mongoose has been running for a pretty long time, serving the professional and recreational biking community. That makes Mongoose a good bike brand. Some of its bikes are high-end while a majority are entry-level but they generally have bikes for all riders.
In Conclusion – Are Mongoose BMX Bikes Good?
A local dad came up with a revolutionary wheel design from the confines of a garage. Shortly after that, Mongoose BMX was born. Their innovative, durable, high-quality, cost-effective bike frames and components soon thrust them into global recognition. A tradition they have kept to date.
Relevant: