The 26 inch BMX bike enjoyed a short stint in the spotlight early in the history of BMX before the much nimbler 24-inch bike replaced it. However, it made a comeback later on, and with it, the question, "For what size person is the 26-inch BMX bike?
In the BMX world, the 26-inch bike technically belongs to a category called Cruisers and serves riders between 5'4″ and 5'9″ tall. Riders on these bikes can maintain a more natural position while riding and enjoy more control and stability as it has more grip.
Additionally, riding 26-inch bikes will feel natural for a rider transitioning from Mountain biking or motorcycling to BMXing.
If you're a new or returning rider, we're sure you've roamed different corners of the internet. And we know you'll agree with us that the journey to getting the right bike size is quite tricky.
But guess what? The search ends here.
To help you begin the great ride you've so desired, we have provided a guide to help you choose the right bike size. We've outlined the 26-inch bike's pros and cons and curated a list of a few 26-inch bikes for you to choose from.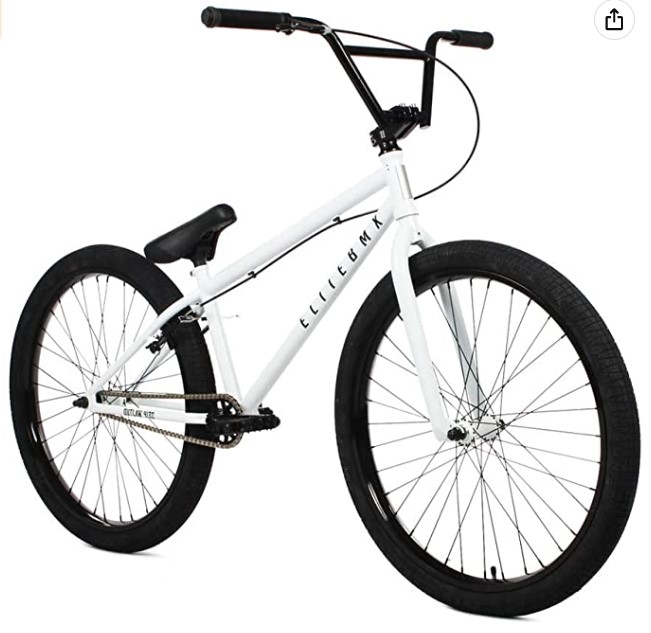 In a rush? Check our preview of some of the bikes we recommend:
Best 26 Inch BMX Bikes
SE OM Flyer 26-inch BMX: Best Classic Cruiser BMX
Elite Outlaw 26-inch BMX Bike: Best for Tall Riders
Redline SQB-26 BMX Bike: Best Low-Profile Cruiser BMX
Krusher Dynacraft Fat Tire Bike: Best 26 Inch Fat-Tire BMX
Without further ado, let's start with the guide to help you choose the right bike size.
BMX Bike Size – A Comprehensive Guide
Several factors determine the bike size you can choose – the category of riding you desire to participate in, the rider's height, and the wheel size.
Let's dig deeper into each of those three factors.
1. The category of BMX riding
BMX biking falls under two broad categories: Racing and Freestyle. Under Freestyle riding, there are several niche categories – Park, Street, Vert, Trail, Dirt Jump, and Flatland.
Racing and Freestyle bikes require different frame geometries. Also, Racing BMX bikes usually have single-wall rims. On the other hand, Freestyle BMX bikes have double-wall rims or triple-walls. These rim types enable them to handle the abuse associated with the Freestyle type of riding.
Street, vert, and dirt jumping frames are generally longer to give space for performing stunts. The standard top tube length in this category is 21″.
Bikes meant for Flatland are shorter for precision control and balance while performing stunts. These frames usually have an average top tube length of 20″.
2. The rider's height
Some bike buyers use age to help them determine which bike size to choose. However, it's not the most accurate metric for such a task. People of the same age can have different heights.
Below is a simple guide suggesting which bike size to get based on height.
| | |
| --- | --- |
| Rider's Height | Wheel Size |
| 5'4" – 5'9" | 26-inch |
| 5'9" – 6'2" | 27.5-inch |
| 6'2″ and over | 29-inch |
The wheel size
The standard BMX wheel has a 20-inch diameter. However, there are bigger sizes classified as "Cruisers." They're generally meant for older riders that want more stability and the feel of a giant bike.
The standard size for BMX Cruisers has been the 24-inch diameter wheel for a long time. However, larger wheel sizes such as the 26-inch, 27.5-inch, and 29-inch have gained more traction. They look and feel bigger and offer more stability.
So, if you don't intend to perform gravity-defying and jaw-dropping stunts, the 26-inch bike will serve you best.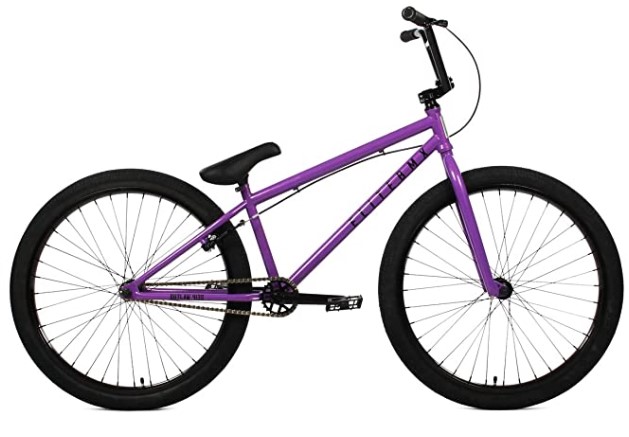 Pros of 26 Inch BMX Bike
Here are reasons you should get a 26-inch BMX bike:
· Increased stability and control
The larger the wheel, the more its tire surface gets in contact with the ground. More contact increases tire traction considerably. The result is better stability and control.
· Perfect choice for taller riders
The 26-inch bike's geometry design works well for riders between 5'4″ and 5'9″. A rider taller than this should go for the 27.5-inch or 29-inch bike.
· The best size for all-round riding
The 26-inch bike suits any riding style you want. You can take a trip to the skate park and shred all you want. And you can also perform all your freestyle tricks or take a casual ride around town.
· Easier Bike Type Transition
For many years, the 26-inch wheel has been the standard for mountain bikes. A rider transitioning from Mountain biking or motorcycling to BMXing won't feel a massive difference if they use a 26-inch BMX bike.
· More Momentum Compared With The 24-inch Bike
It takes longer to gain speed from a dead stop on the wider 26-inch bike. However, once there is motion, the extra weight and size help the 26-inch acquire more momentum.
Cons of 26 inch BMX Bike
Now, here are reasons a 26-inch BMX bike may not be good for you:
· Increased weight
There are more materials required to manufacture a 26-inch wheel. The increased materials translate to increased tire weight compared with the 24-inch wheel.
· Limited Bike Frames
There are limited new 26-inch bike models since most manufacturers have shifted to the 27.5-inch and the 29-inch. However, the internet is awash with used 26-inch bikes that you can acquire before upgrading.
· Difficulty getting quality spare tires
Presently, some high-end shops and suppliers do not stock 26-inch tires. They have switched to wider tires instead – the 27.5-inch and the 29-inch sizes. Therefore, getting quality spares is difficult since some of the 26-inch wheels available are regrettably low-quality imports.
Best 26 Inch BMX Bikes Reviewed!
Finally, here's a review of some outstanding 26-inch BMX Bikes available
1. SE OM Flyer 26-inch BMX (Best Classic Cruiser BMX)
For decades, SE has constantly featured in the BMX bike scene – a testament to the durability of their products. And the SE OM Flyer 26-inch bike does not disappoint.
It features the built-to-last 4130 Chromoly frames and forks. Its Looptail rear-end design and number plate on the handlebars complete its classic look.
With its new sealed bearing hubs and 2.0″ wide Vee tires, the SE OM Flyer is raring to fly you off to your desired destination.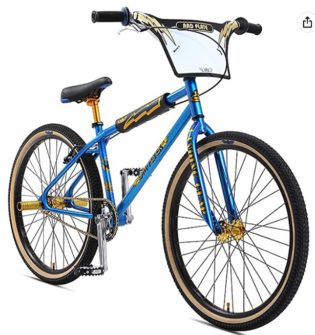 2. Elite Outlaw 26-inch BMX Bike (Best for Tall Riders)
The Elite Outlaw 26-inch BMX bike features a 4130 Chromoly frame and forks that promise durability. It also comes with 8.75″ rise handlebars perfectly suited for taller riders.
Its 2.4-inch wide tires assure you maximum grip and hence more control and stability. Added to the mix is its 48T spline sealed bottom brackets designed to serve you promptly and for the longest time possible.
Its Tektro U-brakes guarantee you a smooth stop whenever needed.
3. Redline SQB-26 BMX Bike (Best Low-Profile Cruiser BMX)
The Redline SQB-26 – an ode to the original Redline Squareback – features an aluminum alloy frame and Chromoly forks for durability.
With its vintage-style graphics, this bike best suits those that want to rock a retro style while riding around town. But it's not all low-profile fun and games.
The Redline SQB-26 packs race-quality components that can unleash the fight within it. Its Flight cranks and Vee Speedster tires will help you make a child's play of your local track.
4. Krusher Dynacraft Fat Tire Bike (Best 26 Inch Fat-Tire BMX)
It's an open secret – we love the allure of the Fat tire fad. And the Krusher Dynacraft does not disappoint. This bike can handle rider weights of up to 300 pounds or more as it features a superior steel frame coupled with the stronger 3-piece cranks.
With its Super Stomper fat tires, no type of terrain or obstacle can get in the way of a smooth ride – be it sand, snow, bumps, or trails.
And while the number of tricks you can pull off is limited, the Krusher Dynacraft promises mad fun on your commute – or in the skate park if you wish.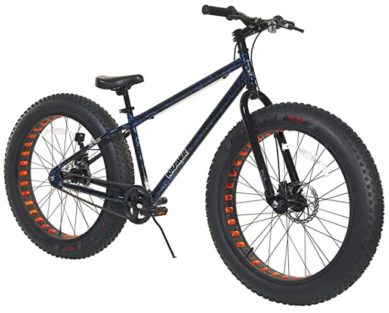 People Also Ask
1. Where Can One Get 26 inch BMX For Sale?
Options available for getting 26-inch bikes on sale vary. You can check on your local bike shop or a yard sale. You could find yourself some great bargains with limited risks.
Pay particular attention to the frame, forks, rim types, front and rear hubs, and bottom brackets, as replacing these items can be costly. You can prepare a checklist beforehand to help.
Ensure you ride the bike to get its feel before buying.
You can also get 26-inch BMX bikes for sale cheaply through Amazon, Craigslist, VarageSale, eBay, and Facebook Marketplace. Caution is, however, advised while transacting on online marketplaces due to scammers.
If physically meeting a seller you've found online, ensure to meet up in a secure place. Bring a friend versed in BMX bikes with you. They will get you that much-needed second opinion and, at the same time, provide security.
2. Where Can I Get a Mongoose 26 inch BMX?
Unfortunately, Mongoose does not have 26-inch BMX bikes available on their website. However, other bike types, such as Dirt Jump bikes, are available in 26-inches.
3. Are 26 inch Bikes Under $300 Available?
Twenty-six-inch bikes for under $300 are available on online market forums such as VarageSale, Craigslist, eBay, and Facebook Marketplace. You can also get them from the websites of online retail giants such as Walmart and Amazon.
In conclusion – 26 Inch BMX Bike For What Size Person?
While not the industry standard for BMX bikes, the 26-inch bike does have its place. It serves taller riders with heights between 5'4″ and 5'9″ and offers better traction than the 24-inch. And it enables riders transitioning from mountain biking to BMXing not to experience massive differences in look and feel.
Relevant: