Getting the perfect BMX bike size isn't an easy thing. You might therefore wonder, in the titanic battle pitting the 26 vs 29 BMX bikes, who wins? And why?
Generally, both the 26 inch and 29 inch BMX bikes cater for tall riders. However, the 26 inch BMX bike suits guys who are 5'6″ to 6′ tall, while the 29 inch BMX bike is best for riders whose height is 6 feet and above.
Read along as we review the 26 inch and 29 inch BMX bikes individually. We will also consider some of the brands available.
Before that, though, we will discuss why it's crucial to choose the right BMX bike size.
Why Is It Important to Choose the Right BMX Bike Size?
Here are the reasons:
1. The Right Bike Size Enhances Safety
Riding a bike that is too big for you reduces your control over it. Once you lose control, your chances of crashing increase considerably. Therefore, for your safety, it is best to have a suitable bike for your size. You will have better control over it.
Riding an undersized bike – one that is too small for one's size – is also not advised. Smaller frames are a tad less reliable. And they are prone to breaking due to the increased pressure exerted on the structure.
True professional cyclists ride smaller framed bikes for better handling and performance. However, these are professionals who train regularly to master their art. Besides, highly undersized bikes negate the advantages of a smaller-sized frame.
A more petite frame also forces one to maintain an upright posture. Such a posture during descent significantly increases the possibility of a speed wobble. With less maneuverability and balance, a crash is sure to follow.
2. The Right Bike Size Helps Maintain the Recommended Speed
Riding a bike with the wrong size affects the needed bike speed. How, you ask? Well, a short individual on a bigger bike will have to overstretch their legs to reach the pedals.
As a result, they will have to move from side to side on the seat. Combining the pedal's sideways movement and the minimal foothold will result in inefficient power transfer to the pedals.
The lower power translates to a speed reduction – an unenviable result in road racing, uphill mountain biking, or BMX bike stunts.
3. The Right Bike Size Provides Comfort
Each bike type has a recommended posture. Riding the wrong size bike will overwork specific muscles, leading to fatigue, discomposure, and pain.
4. The Right Bike Size Helps with Specific Technical Performances
Certain BMX biking stunts and tricks require specific-size bikes. For instance, even though one can grind as long as they have a peg, grinding on a 26-inch wheel isn't much fun. It can cause damage to the crank, which is bigger in the 26 inch BMX bike.
5. The Right Bike Size Helps in Avoiding Pain During or After Cycling
Riding a bigger bike demands that one leans forward to reach the handlebars. This forward lean will apply pressure on the shoulders and spine, making the cycling experience very uncomfortable.
Riding a smaller bike means the knees will continually hit the elbows or handlebars. The result? Pain and discomfort.
So, if you experience soreness and pain on the knees, shoulders, and wrists while riding or after, then it's high time you resize your bike.
After considering why getting the right bike size is essential, read along as we review the 26 inch and 29 inch BMX bikes in detail.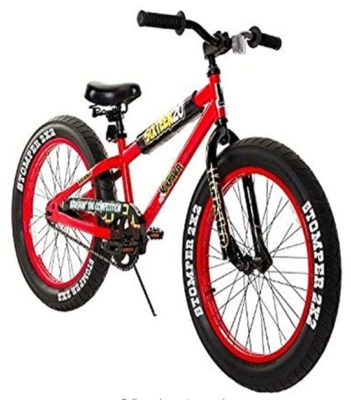 26 Vs 29 BMX Bikes
Let's compare the two BMX bicycle sizes:
26 inch BMX Bike
The 26-inch bike is the standard for commuting in the general cycling world. It's common on mountain bikes as well as on expedition bikes.
A 26-inch wheel bike is considered an adult-sized bike for BMX bikes. Tall adults, to be specific.
Diehard BMX bikers, however, do not accept anything above 24 inches to be classified as a BMX bike. They reason that bikes with smaller wheel sizes like the 20 or 22 inches can have adjustable top-tubes to fit tall people. To which we say, "Each to their own."
26 Inch BMX Bike Advantages
26 inch BMX bikes come with wider tires, giving the rider a wider footprint on the ground. Hence, much stability and balance.
The 26-inch wheels are stronger than the 29-inch ones since they have shorter spokes. This enables them to carry more weight without bending or cracking.
Replacement of parts is cheaper and more manageable since 26-inch bikes are commonplace.
26-inch BMX bikes have a larger tire clearance. Fatter tires can fit on 26-inch wheel frames since the frame's design allows for fitting 2 inches wide and above tires.
Some fat tires can be as wide as 5.2 inches! A cyclist can ride over rougher terrain with fatter tires fitted than their skinny counterparts.
26 inch BMX Bike Disadvantages
Compared with the 29-inch wheels, the 26-inch wheels don't roll over obstacles well due to their smaller size.
The 26-inch wheel is smaller and lighter than a 29 inch one. As a result, the inertia on the 26-inch reduces. It, therefore, rolls less than a 29-inch wheel.
Your speed will reduce riding a 26-inch wheel bike on a flat surface compared to the 29-inch wheel bike.
The smaller size of a 26-inch wheel means that a rider feels the bumps and potholes more. A bigger tire like the 29-inch will roll over potholes that "swallow" the 26-inch wheel.
Finding quality spares for a 26-inch wheel is a tad too difficult in the developed world. Most manufacturers have switched to larger wheel sizes like the 27.5-inch and 29-inch.
But since there is still quite a sizeable number of bikes with the 26-inch wheel, the spares market has been flooded with cheap imports. These products do serve. But not for long.
Best 26 inch BMX Bike
Krusher Men's Dynacraft Fat Tire Bike
For the fat tire enthusiasts, here's Amazon's choice for you – The Krusher Men's Dynacraft 26-inch fat-tire bike.
This bike comes with mountain bike-style handlebars and rear coaster brakes. With its adjustable seat post, you can comfortably cruise around town and still perform a trick or two when you go to the Park.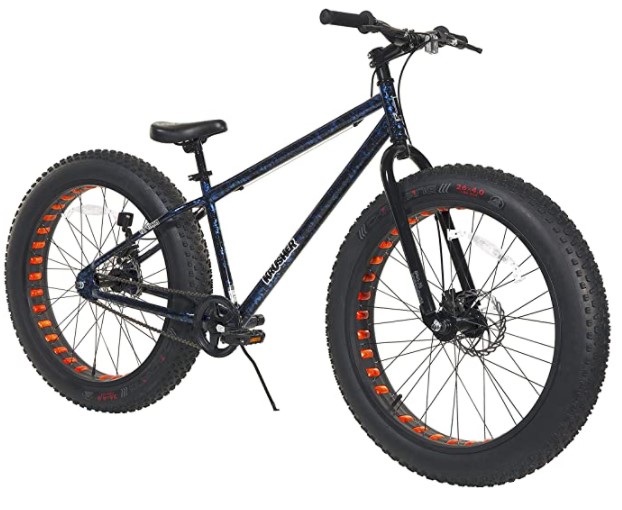 One look at its cowboy-cut Chromoly forks, and you know this bike can handle everything you throw at it – the whole nine yards. With its retro frame design, V-Ridge cranks, and wide Chromoly handlebars, you're sure to turn heads on the streets when you take the SE OM Flyer for a spin.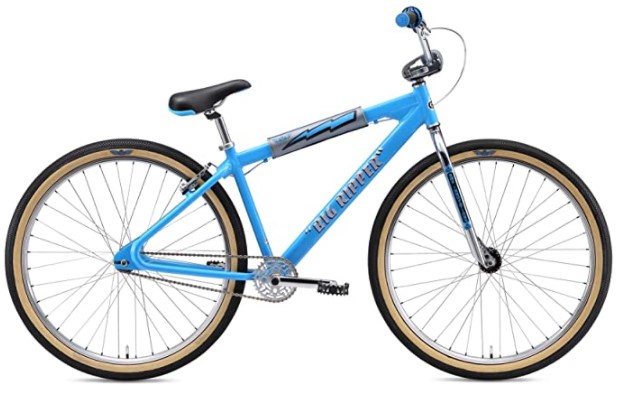 29 inch BMX Bikes
These are the biggest BMX bikes available. The geometry and size of a 29-inch BMX bike provide the most natural riding position for riders whose height is more than six feet.
The verdict for cyclists that have ridden the 29 inch BMX bikes is this; it rides like a cruiser.
29 inch BMX Bike Advantages
The 29-inch bike is faster. Due to its big tire size, the bike rolls and coasts a longer distance on a single pedaling cycle than the 26-inch bike due to its big tire size.
The 29-inch BMX bike offers a large balance and stability window ideal for new riders.
Due to its size, the 29-inch bike rolls over obstacles better than the 26-inch bike.
Its wide turning angle is a plus for riders who prefer such a bike feature.
29 inch BMX Bike Disadvantages
Due to its size, the transportation of the 29-inch bike is challenging. You'll need a bike rack to transport a fully assembled bike. Otherwise, to transport the 29er, you'll need to have a truck or remove the front tire.
The immense size of the 29-inch bike means there are more materials used to build it. More materials translate to more weight. The 29er is, therefore, a heavier bike. This weight issue is a significant problem for those that carry their bikes on a flight.
29 inch BMX Bikes Recommendation
For the returning old-school BMXer, the 29 inch SE Big Ripper is the perfect fit. Its monster-sized frame and 29″ x 2.10″ wide Speedster wheels make it one of the biggest BMX bikes in the world. It comes in 2 colorways of blue and chrome.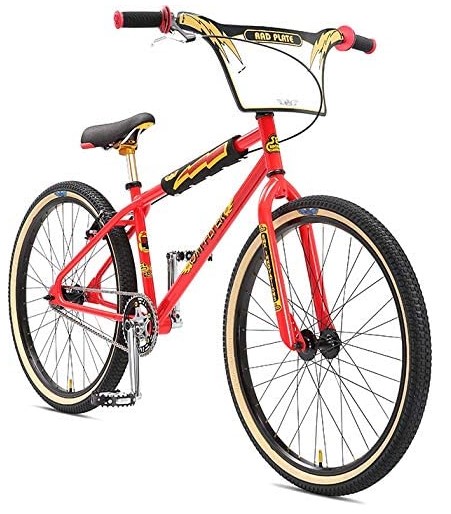 26 vs 29 BMX cruiser
Cruiser bikes are recreational bikes not designed for competitive riding. You will identify a cruiser by the presence of a curved top tube – or the complete absence of one. In the 26 vs. 29-inch BMX cruiser debate, the choice is dependent on your height.
The 26-inch cruiser works well for riders with a height between 5'6″ and 6′. For riders above 6 feet, the 29 inch BMX cruiser works best.
People Also Ask (About 26 vs 29 BMX bikes)
Should I Get A 24 Or 26 Inch BMX Bike?
One of the most important things while deciding whether to get a 24 or 26-inch BMX bike is the terrain you will ride on. Other factors include riding style, skills, and whether you're in a competitive race with specific rules.
Generally, the 26-inch wheel is suitable for riders with a mountain bike or motorbike background. The geometry and handle of a 26 inch will feel familiar – as well as the moves one can perform.
The 26 inch rolls forward nicely and carries momentum better. The 24-inch bike, on the other hand, is mainly considered an in-between. Riders graduating from 20-inch "kids' bikes" to "adults" bikes prefer the 24-inch bike.
For those with a trials biking background, the 24 inch BMX bike offers a medium. It essentially merges the two disciplines.
Who Is The 26 Inch BMX Bike for?
The 26-inch BMX bike suits tall riders who want a piece of the BMX and mountain biking worlds. The 26-inch BMX comes in the size of a typical mountain bike and provides the durability and simplicity of a BMX bike.
In Conclusion – Which Way to Go On The 26 Vs 29″ BMX Bikes Debate?
He who doesn't have a dog hunts with cats, so say the Portuguese. So, if you're tall and all you have is the 26 inch BMX bike, you can still ride. However, if you are over six feet tall and have the budget for a new bike, the 29-inch bike is the best option. It will give you a more natural riding position.
Also Read: