Your neighbor has recently bought a spanking new 24 inch BMX bike to ride alongside their kid. You, the six-foot-plus individual next door, are now suffering after being bitten by a severe case of BMX bike envy bug. We can warrant a guess that your next Google search will be, "Can adults ride 24 inch BMX bikes"?
Yes, adults can ride 24 inch BMX bikes. In particular, adults can ride 24 inch BMX bikes with a top tube length of 20.0 inches and above as such a size accommodates riders above 5'4″. It's essential, however, that the BMX bike sustain the adults' weight.
Tag along as we review why biking is healthy. We will equip you with knowing which bike size works for you. We'll also throw in recommendations of some of the best 24 inch BMX bikes in the market for different categories.
Whether you are looking to have fun while spending time with your little one, or you've got the BMX itch and want to get back to riding, or you're the envious neighbor mentioned at the onset, we've got you covered.
Here we go!
In a rush? See our most recommended 24 inch BMX for adults on the hotlist below:
4 Best 24 Inch BMX Bikes
Schwinn Sting Pro/ Predator BMX Bike: Best Adult 24 Inch Freestyle BMX Bike
Mongoose Title Elite 24 BMX Race Bike: Best Adult 24 Inch Race BMX Bike
Mongoose Title 24 BMX Race Bike: Alternative Best Adult 24 Inch Race BMX Bike
Redline MX24: Best Entry Level 24 Inch Adult BMX Bike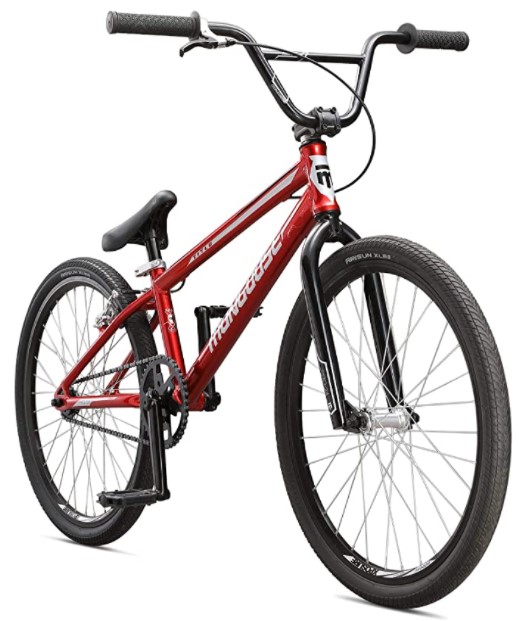 BMX Biking – Four Reasons Why It's Healthy for Adults
You may have started with BMX riding because of its perceived health benefits. Below is a reminder of just four of the reasons.
1. Weight Loss
BMX riding helps you to keep moving and have fun at the same time. Talk of a double whammy! Movement translates to the burning of calories.
Experienced cyclists advise that you start easy and pick up the pace as you get the ropes. Generally, you can quickly burn about 300 calories an hour depending on the amount of time you spend riding, your weight, and riding speed.
Compared with going to the gym, cycling – specifically BMX bike riding – will help you lose weight AND not get bored doing it!
2. Muscle Build-Up
Cycling engages the core muscles such as quads, hamstring, glutes, and even the abdominal muscles. While riding, all these muscles are engaged and toned or tightened to reduce the appearance of body fat.
BMX biking helps a person bulk up and become stronger by working the muscles beyond what they are used to.
Here is the clincher;
The more muscles you pack, the more calories you burn. And this happens even while at rest.
3. Cardiovascular Health
According to one study, cycling reduces the risk of death by cardiovascular diseases. If done regularly, cycling will stimulate and improve circulation.
You will sweat and take deeper breaths while cycling. As a result, this will strengthen the heart, and you will experience improved fitness levels.
4. Brain Health
Increased circulation to the brain translates to an increase in oxygen to the brain. The brain performance will experience a marked improvement since adequate oxygen supply will stimulate the brain.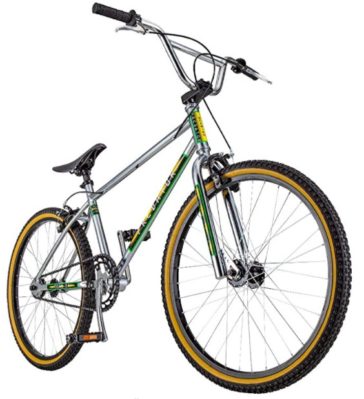 How Can You Get the Right Adult BMX Bike Size?
The geometry of BMX bikes considers factors such as height, wheel size, age, etcetera. The rider's weight usually doesn't count much because, let's face it, BMX bikes are built to handle extreme conditions.
Let's consider the factors to take into account when deciding on which BMX bike to get.
Rider's Height
Ideally, standing over the bicycle and having your legs touching the ground should help determine the bike's suitability for you. However, that might not be possible if you buy over the internet.
You will need to know your height to get the right BMX bike. If you fancy the technical details, below is a guide to help you know which measurements you will need.
Inseam height – Measure the distance from the floor to your groin to help you get the bike height that suits you.
Reach (wingspan) – Measure the distance from your armpit to your fingertip.
Ape index – Take the wingspan measurements and subtract your height. A positive result means you will need to get a larger bike. The opposite is valid for a negative outcome.
Most manufacturer websites provide a guide on what bikes fit specific rider heights. Below is a table that shows the rider height and the recommended top tube and bike frames size.
| | | |
| --- | --- | --- |
| Rider Height | Top Tube Length | Bike Frame Size |
| 4′ 00″ and Under (122cm or less) | 15″ – 16 " | Micro Mini |
| 4′ 00″ – 4′ 6″ (122cm – 142cm) | 16″ – 17″ | Mini |
| 4′ 6″ – 4′ 10″ (142cm – 149cm) | 17″ – 18.5″ | Junior |
| 4′ 10″ – 5′ 4″ (149cm – 163cm) | 18.5″ – 19.5″ | Expert |
| 5′ 4″ – 5′ 10″ (163cm – 181cm) | 20″ – 20.5″ | Pro |
| 5' 10" and Over (181cm and Over) | 20.5" and Over | Pro XL or XXL |
BMX Wheel Size
While commonly used, the wheel size is not the most accurate means to determine whether a bike fits you or not. The wheel size can be small, while the top tube and frame sizes are larger for that specific category.
One explanation for this is that people can now build and customize their bikes for particular fields in BMX riding. However, that is not to say there are no guidelines.
Check out the recommendations below on the categories that each wheel size fits.
| | |
| --- | --- |
| Wheel Size | Category |
| 16 inch | Kids Bikes |
| 18 inch | Small Freestyle |
| 20 inch | Standard |
| 22 inch | Medium |
| 24 inch | Cruiser BMX – Popular among taller people or older riders |
Rider's Age
Another category for choosing the suitability of a bike is age. Most BMX bike manufacturers include this on their websites. But since there are always outliers regarding age and body sizes, you will notice that manufacturers usually give a range.
Here is a table that shows what you can expect for specific age groups.
| | |
| --- | --- |
| Rider's Age | Frame Size |
| Up to 5 years | Micro Mini |
| 5-7 years | Mini |
| 8-10 years | Junior |
| 10-13 years | Expert |
| 13 years + | Pro |
4 Of The Best 24 Inch Adult Size BMX Bikes
To help you actualize your desire to start BMX biking, here's a list of four of the best bicycle motocross bikes on the market.
1. Schwinn Sting Pro/ Predator BMX Bike (Best Adult 24 Inch Freestyle BMX Bike)
The Schwinn Predator Team embraces the 80's vibe mainly due to its chrome-plated steel frame, some cool decals, and Rattrap pedals that offer constraint while riding.
Available in 20 and 24-inch wheels, it suits anyone from 8 years and above, including the taller members of society.
Want to feel like a kid again? Get yourself on The Predator Team and experience the thrill.
2. Mongoose Title Elite BMX Race Bike (Best Adult 24 Inch Race BMX Bike)
Mongoose brand bikes come complete with high-end performance capabilities. The Mongoose Title Elite 24 bike is a trail BMX cruiser specially crafted for professional riders whose height is 5'7″ and above.
It comes fitted with an Aluminum linear-pull brake and Radius aluminum brake levers, and it offers four things – precision, speed, control, and maximum steering performance.
This BMX comes complete with a hydroformed and butted aluminum frame that is marginally stronger and more aerodynamic.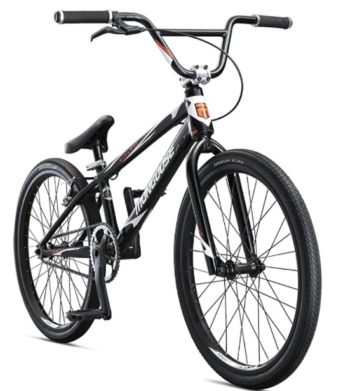 3. Mongoose Title 24 BMX Race Bike (Alternative Best Adult 24 Inch Race BMX Bike)
Are you new to BMX bike riding? Or perhaps you are returning to the sport after a long absence? Worry not! This affordably priced cruiser is precisely what you are looking for.
Its three-piece tubular cranks contain sealed bearings protected from the elements, resulting in a smoother pedaling. Its integrated headset allows for easy replacement without the need for specialized tools.
And with its top tube length of 21.77 inches, the Mongoose Title BMX bike comfortably accommodates riders with a height of 5′ 7″ and above.
4. Redline MX24 (Best Entry Level 24 Inch Adult BMX Bike)
The Redline MX series, considered an entry-level bike, is the best option for new or returning riders. It packs an impressive look and a compact build quality.
This BMX comes complete with Tioga Powerblock tires – the "new standard in BMX racing" – to efficiently transfer all your inputs from the pedals and elsewhere into a smooth ride.
How Can Adults Ride BMX Bikes Safely?
It would be a great injustice to complete this article without touching on safe-riding principles. Your safety should be of paramount concern, especially when riding BMX bikes and performing gravity-defying and blood-rushing flips, tricks, and jumps.
So, here are a few things to include for you to have a safe ride.
Accessorize – Wear Personal Protective Gear
To enhance your safety, wear cycling gloves that will help you improve your grip on the handlebars. They are also the first defense against cuts, grazes, and bruises during a crash.
The impact from external sources or other things such as the pedal can hurt your bones and soft tissues. Donning shin guards and elbow pads will absorb the shock, thus protecting you from injury.
Of utmost importance is the helmet that protects against possible head injuries.
No one starts cycling expecting to crush, but when you have the proper safety gear, it prepares you for when it does happen. Prevention is better than cure – so goes the saying.
Easy Does It – Go Slow On the Bike
Generally, cycling is thrilling. The excitement is even higher in BMX riding. This thrill will lure you into riding faster, which will, in turn, increase your chances of crashing and hurting yourself.
Trying a new trick can also cause injuries. So, do exercise caution.
BMX seats are designed low to offer room for maneuvering, especially when doing mid-air tricks. The seats are also low to allow you to exert more power on the pedal for quick acceleration.
Sitting for a long time while riding a BMX will pressure your groin area and lower back. The resulting pressure will be relieved by standing up often.
In Conclusion
Whether you're a young kid, a six-foot-plus individual or you fall somewhere in between; there is something for you in the BMX biking world. Review what works for you, hop on and harness the myriads of benefits that come along with riding a BMX bike.
Oh, and don't forget your helmet while at it!
People Also Ask
Is A 20 Inch BMX Bike for Adults?
A 20 inch BMX bike is considered the standard size for kids, youth, and shorter adults. Taller adults may find them uncomfortable to ride, especially those starting out.
What Age Is A 24 Inch BMX Bike for?
Generally, a 24-inch BMX is an adult bike variant. That said, the 24-inch BMX bike is recommended for children above eight years of age with more than four feet and two inches tall.
Can Adults Ride 20 Inch Bikes?
Yes, adults can ride 20 inch bikes if their height accommodates. Taller adults can also ride 20-inch bikes if the frame is bigger and the top tube is longer.
What Size BMX Do Adults Ride?
Adult BMX size starts from the standard size of 20 inches. The recommendation is that taller and older adults go for the 24 inch BMX bikes as they offer more stability. However, most adult BMX users have shown a leaning towards the 22-inch bikes, which they describe as comfortable.
Can Adults Ride BMX Bikes?
Yes, adults can ride 24 inch BMX bikes. There is no age limit – only your health can hold you back. In fact, according to storycorps.org, the oldest female BMX rider is nearly 70 years old!
Also Read: