There was a period when Diamondback BMX bikes ruled the Racing tracks and commanded the premium status. But as years go by, one may rightly wonder, "Are Diamondback BMX bikes good?"
Generally, Diamondback BMX bikes are a good choice. These bikes have a reputation for high-quality components and construction, sturdy and durable frames, and the presence of different bikes for different market segments.
Additionally, while Diamondback BMX bikes are mostly reasonably priced, they still come with high-end components from third-party manufacturers such as Shimano.
However, as you may know, newer models of Diamondback BMX bikes are currently not available.
So, what has changed? Which Diamondback BMX bike models are still available? What are the pros and cons of Diamondback BMX bikes?
Follow along as we take a look at all those questions and more.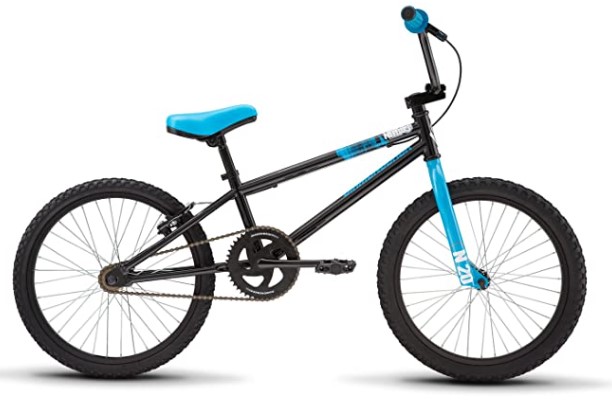 In a rush? Here's a list of the Diamondback BMX Bikes we've recommended.
Diamondback Jr Viper BMX Bike: Best for 3-6 years or slightly older
Diamondback Grind BMX Bike: Best for entry-level and intermediate riding
The Diamondback Youth Nitrus BMX Bike: Best for older Kids
Brand History
The Beginning
In 1977, Western State Imports founded Diamondback Bicycles in Newbury Park, California, U.S. It initially started as a BMX brand and sold under the Centurion Bicycle brand.
Achievements
Diamondback sponsored several BMX racers to great success. In 1993, the company formed DBR (Diamondback Racing) to sponsor an expanded field of cyclists that included riders from different fields such as BMX, Mountain biking, and Road biking.
Diamondback has pioneered great inventions in the cycling world, including the gusset for BMX bike frames and the Knuckle Box and Level-Link suspension for mountain bikes.
The company also expanded its bike types to include mountain and road bikes.
Acquisitions and Name Changes
Diamondback underwent subtle name changes, starting as Diamond Back, switching to Diamondback, before finally settling on Diamondback.
The ownership of Diamondback has also changed hands severally due to economic downturns and strategic acquisitions. In 1999, Derby Cycles Corporation, which also owned Raleigh, acquired Diamondback.
The year 2001 saw Derby Cycles undergo some significant financial constraints and sold Diamondback to Accell Group, a company based in the Netherlands.
In 2019, Accell Group sold Diamondback to Regent, L.P., a multi-sector private equity firm.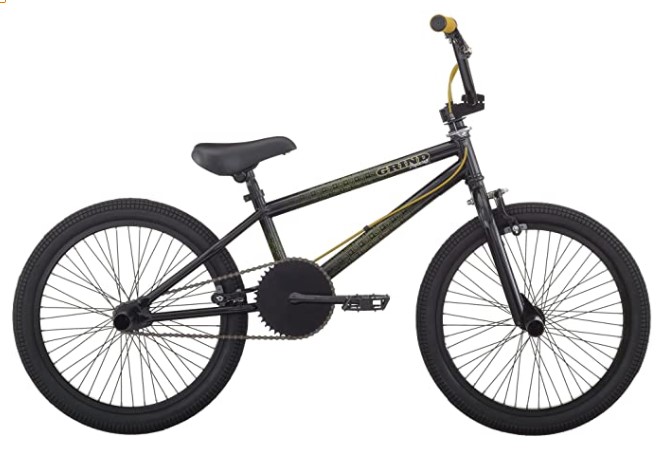 What Makes Diamondback BMX Bikes Good?
Here are 6 reasons Diamondback BMX bicycles are good:
1. High-Quality Components
Diamondback outsources its components from third-party manufacturers such as Shimano and SRAM and uses them for bike assemblies. Shimano and SRAM belong to the top three component manufacturers.
These manufacturers guarantee that their production processes are stringent to produce the highest quality components.
2. Sturdy and Durable Frames
While it's true that Diamondback gained notoriety for weak frames for a brief time, they have since turned things around. Their frames currently rank highly for sturdiness and durability.
Kinesis Industries, which manufactures Diamondback frames and forks, is known for pioneering innovative production technologies such as hydroforming. With such innovations, they're able to produce lighter but stronger frames.
3. Friendly Warranties and Return Policies
Most manufacturers stand by the quality of their products – that is until you find a faulty product and you want it replaced! Suddenly, disclaimers and numerous fine prints appear as they deny responsibility.
Not so with Diamondback. They have clearly outlined Return Policy guidelines. These guidelines make it easier for you, the buyer, to determine whether your product meets the Return Policy criteria.
Their warranties are also friendly. Diamondback offers a lifetime warranty for a rigid bike frame for the original buyer. Meanwhile, the components from third-party suppliers have a 1-year warranty tag on them.
4. Helpful Bike Assembly Tips
You do not need to have advanced technical skills to assemble Diamondback bikes when they arrive. Diamondback's website has some helpful tech tips for a standard assembly. You can read them here.
They also ship their bikes as Ready Ride, meaning you only have to put on the front wheel, seat, and pedals, pump the tires and set for the much-awaited first ride.
Diamondback also provides a small toolkit for the assembly of the bikes. And in the unfortunate event that any mentioned tool is missing, their website offers the appropriate communication channels for addressing such matters.
5. Reasonably Priced
Diamondback bikes are, on average, reasonably priced compared with similar bike types from other manufacturers. While their pricing is lower, their quality is NOT inferior.
They manufacture and assemble bikes with high-quality components and construction, down from the entry-level to the high-end bikes used by enthusiasts and professionals.
6. Products for Different Market Segments
Diamondback has your back, no matter your riding needs. They manufacture and assemble bikes for beginners with entry-level needs, intermediate and advanced riders with improved skills, and professional riders requiring precision and high-end components.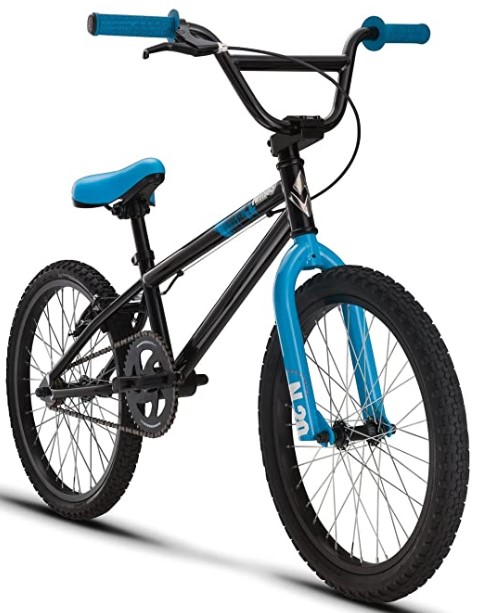 Diamondback BMX Bike Drawbacks
No, here are the downsides of Diamondback BMX:
· Extra Weight
Diamondback bikes generally tend to weigh more than the average bike. The material of choice used in the bike's manufacture plays a crucial role in its final weight. Most bike frames are either aluminum or steel, with other materials such as titanium or carbon fiber not as common.
Diamondback frames have a reputation for their strength and durability. These frames have increased thickness to achieve more strength.
The increased thickness can be a straight gauge, spanning the entire length of the frame tube, or butted, where the ends are thicker than the middle section.
Since steel is 2.5 times heavier than aluminum, people generally consider aluminum frames lighter and steel frames heavier. However, a thicker aluminum frame can weigh as much or even more than a steel frame.
Therefore, a bike with a frameset made from a thicker material will feel heavier than its counterparts made from thinner materials.
· Considerably Pricey
While Diamondback BMX bikes are reasonably priced, some users consider them pricey. Ardent Diamondback fans refute that claim, stating that the prices are justified.
These diehard users reason that Diamondback bikes deserve their price tags since they have high-end components from third-party manufacturers such as Shimano or SRAM.
Diamondback BMX Bikes Review
There are no new models of Diamondback BMX bikes available on their website. However, some of the older models are still available on the websites of online retail giants such as Amazon. Here's a brief review of a few of them.
Are you a parent looking forward to introducing your kid to the cycling world? Or is the holiday season around the corner, and you're eager to upgrade your status to a cool uncle or aunt? The Diamondback Jr Viper is just what you need.
It's designed for kids 3-6 years old or 35-48 inches tall and features components meant for this age group. For instance, the Jr Viper comes with fully adjustable training wheels that are removable as the young rider's skill and confidence grow.
The Jr Viper comes with a single-speed drivetrain for simplicity and knobby tires for increased traction and balance while riding.
It also features coaster brakes that make it easy for young riders to come to a stop – all they need is to pedal backward. The bike's chainguard keeps your child's skin away from chain abrasions and clothes away from chain grease.
On a budget? Worry not. The Diamondback Jr Viper retails at less than $200. Its adjustable seat post allows for usage of the same bike as the kid grows and even handing it down to a younger sibling. The bike's high-tensile steel frame and forks promise to serve you for a long time.
The lifetime warranty on the frames for original purchasers is further proof of the bike's durability.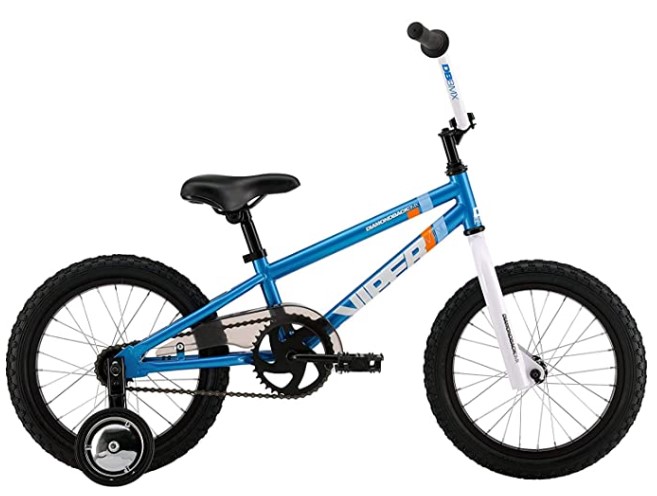 Diamondback tackled the low-quality problem associated with entry-level BMXing when launching the Diamondback Grind.
This bike caters to those who love BMX tricks and stunts and has features fit for entry-level and intermediate riders.
The Diamondback Grind features a Bomber frameset known for its durability to handle the abuse that BMX biking is generally associated with.
Additionally, this bike comes with 48 spokes to further aid the durability cause. The standard for BMX spokes is 36.
The forty-eight spokes go a long way in helping to improve balance and handle more weight comfortably. Therefore, a rider is less likely to damage the rim after many jumps and landings.
The drivetrain features a one-piece steel crank and a basic sprocket with a 44/16T gearing ratio. This sprocket size is bigger than what's common now. However, it is much more durable and less prone to breaking down.
And as the name suggests, this bike comes ready for grinding as it has built-in pegs. It also features an SST Oryg cable detangler (Check on Amazon) to help you perform your bar spins without worry.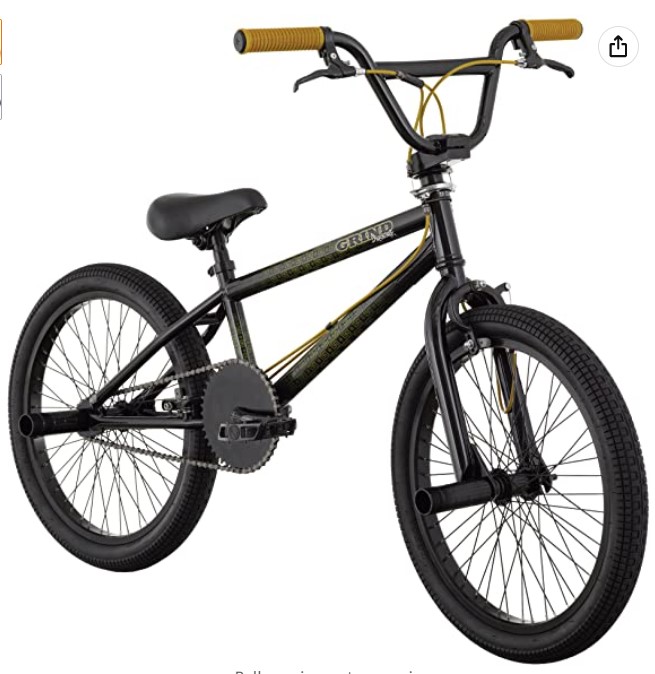 For those young riders that want to take their riding experience to the next level, the Diamondback Nitrus BMX bike is the perfect fit. It offers better performance and has components that will last for a long time.
Its frame is made from high-tensile steel to offer durability and strength. True, high-tensile steel adds a bit more weight to the bike. However, this can also be an advantage since the extra weight increases the bike's balance and stability.
The Nitrus' braking system comprises rear-mounted brakes with an easy-pull lever mounted on the handlebar. This is a good option for those that want to transition from the coaster brakes to hand/lever brakes. With regular maintenance, the system guarantees to serve for a long time.
Color plays a fundamental role in determining the attractiveness of a bike, especially those meant for young riders. The Nitrus does not disappoint in this regard. Its blue and black colorways blend beautifully to make it a delicious feast for the eyes.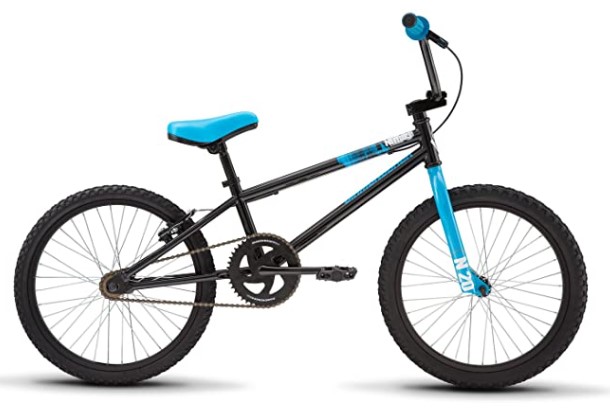 People Also Ask
1. Does Diamondback Still Make BMX Bikes?
Diamondback no longer manufactures or assembles BMX bikes. However, they are currently big on MTBs, road & gravel bikes, kids' bikes, and e-Bikes.
The Diamondback BMX bikes available online feature on the websites of retail giants such as Amazon.
2. Who Owns Diamondback?
Currently, Regent L.P. owns Diamondback bikes. Its headquarter is in Kent, Washington, U.S.
3. Where Are Diamondback Bikes Manufactured?
Diamondback has outsourced the manufacture of its bike frames and forks to Kinesis Industries – a Taiwan-based company that has its main factory in Guangzhou, China.
In Conclusion – Are Diamondback BMX Bikes Good?
While Diamondback BMX bikes may not be the mainstay in the BMXing scene presently, their highly regarded track record is no denying. Over the years, the Diamondback BMX brand has consistently produced bikes with sturdy and durable frames, high-quality components, and a wide range of bike models for different market segments.
Relevant: