Lights flash, the gate drops, and the octet of BMX race bikes go down the start hill, buoyed by a potent dose of adrenaline. For the next forty seconds plus, it's man, track, and bike. This next-level fun and adrenaline rush can be yours to experience if you get yourself a BMX race bike. So, what's there to know about BMX race bikes?
Generally, BMX race bike classification depends on the wheel size/diameter, frame size, and proficiency levels. The standard tire size is the 20-inch wheel with a width of 1.75″ or less, with the 24-inch wheel being a preserve for the cruiser class. The frame sizes vary from micro-mini to Pro xxx, with top tube lengths starting from 16.75″ to more than 22.75″.
Additionally, BMX race bikes fall under three proficiency levels; beginner, intermediate, and expert. Your proficiency level matters in determining the BMX race bike you can buy.
Read along as we touch on the things you need to look for in a BMX racing bike, including a sizing guide to help you determine which bike perfectly suits you. We've also included a review of specific BMX racing bikes.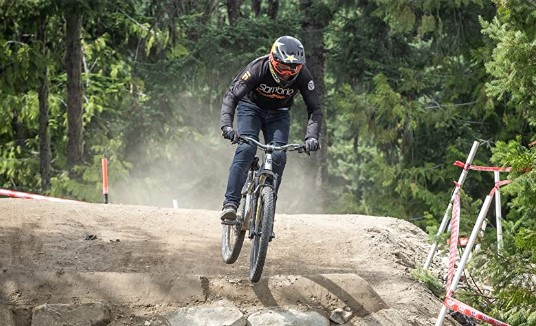 In a rush? Here is our BMX racing bikes hotlist.
5 Best BMX Race Bikes
SE Ripper BMX Racing Bike– Best racing bike for kids
Mongoose Title 24 BMX Race Bike – Best beginner racing bike
Mongoose Title Elite 24 Race BMX – Best advanced racing bike
Schwinn Sting Pro BMX – Best Steel frame racing bike
Redline MX-24 BMX Racing Bike – Best Entry-level racing bike
What Should You Look For in the Best BMX Race Bike?
Here are some things you need to check on to differentiate your BMX race bike from your regular Freestyle BMX bike.
a) Frames
The frame, considered the bike's backbone, must be strong, light, and have the proper geometry required for a BMX race bike. Racing bike frames are usually made using aluminum, Carbon, Titanium, and Chromoly steel. However, the most common BMX race bike frame material is aluminum, as it's strong and weighs less.
Aluminum frames last an average of 6 years, depending on the usage. The only downside is that all-aluminum frames do snap, eventually.
b) Forks
Forks differ in thickness, length, and production processes. We recommend cast-out or heat-treated 4130 Chromoly forks since they're more robust and durable.
c) Wheels/Tires
The essence of racing is getting to the finish line first, and tires play an essential role. BMX race bikes usually have skinny tires to further reduce the bike's weight. These tires generally have a width of 1.75″ or less.
Some riders combine different tire widths to a significant effect. They use wider tires at the front for increased traction, with skinnier tires on the rear wheel for faster rolling.
BMX race bikes usually have 32 spokes rims instead of the 36 or 48, which is common in Freestyle BMX bikes. The reduced number of spokes helps in weight reduction.
d) Cranks
Having incorrect crank sizes will affect your riding. Crank arms that are too long cause the bike to move from side to side. Your riding will be snaky rather than follow a straight line. On the other hand, shorter crank arms translate to inefficient pedal power transmission.
Below is a simple guide to help you choose the most suitable crank arm length. If the recommended size is unavailable, go for a shorter option.
| | |
| --- | --- |
| Rider's Height | Crank Arm Length |
| 5'5″ and below | 160mm and below |
| 5'5" – 5'8" | 160mm – 165mm |
| 5'8" – 5'10" | 165mm – 170mm |
| 5'10" – 6'3" | 172.5mm – 175mm |
| 6'3″ and above | 175mm – 180mm |
e) Hubs
The hubs enable the transfer of the pedal power into motion. Consider getting a fully sealed instant engagement hub to give you an edge over the rest of the competition once the gates drop during a race.
Check out the hub's labels to ensure that they can handle your weight range.
Also, consider getting female axles to bolt the hub in place onto the dropouts. Most riders swear by their durability.
f) Sprockets
The sprocket refers to the toothed wheel that moves the chain. The number of teeth on the front sprocket and the rear cog determine a bike's gear ratio. Standard sprockets came with a 44/16T gear ratio. Modern bikes use different combinations for different riding needs.
A higher gear ratio translates to higher top speeds but lower acceleration. On the other hand, a lower gear ratio translates to better acceleration but with lower maximum speeds. Younger riders are better served with the 'lighter' lower ratios, while higher ones cater to stronger riders.
BMX Race Bikes Sizing Guide
Riding a bike that is either too small or too big is highly discouraged due to its adverse health effects. Moreover, new and younger riders lose out on their learning curve while riding bikes that do not fit their size.
Here's an essential sizing guide that can help you make the best decision. However, keep in mind that this remains a guide. Personal preferences play a crucial role in the eventual choice.
| | | | |
| --- | --- | --- | --- |
| Rider's Height | Rider's Age | Frame Size | Top Tube Length |
| 4'00" and Below 122cm or less | 5 years and Under | Micro Mini | 15" – 16" |
| 4'00" – 4'6" 122cm – 142cm | 5 – 7 years | Mini | 16" – 17" |
| 4'6" – 4'10" 142cm – 149cm | 7 – 9 years | Junior | 17" – 18.5" |
| 4'10" – 5'4" 149cm – 163cm | 9 – 11 years | Expert | 18.5″ – 19.5″ |
| 5'4″ – 5'10" 163cm – 181cm | 10 – 13 years | Pro | 20″ – 20.5″ |
| 5'10" and Over 181cm and Over | 13 and Above | Pro XL, Pro XXL, Pro XXX, Pro XXXL | 21″ and Over |
Best BMX Racing Bikes Review
For a new or returning rider, the best option for your bike choice is a complete bike from one of the major manufacturers. Soon enough, you'll identify what works and what doesn't and make an appropriate upgrade.
So, here goes our list of the best complete BMX racing bikes available.
Thinking of upgrading your kid's bike? The Ripper is your go-to option. It has a lighter aluminum frame, the ever-dependable 3-piece cranks, and the linear easy-pull rim brakes to help bring the bike to a stop.
Its 38/14T gear ratio falls under the "Light" category, making it easier for a young rider to push the pedals.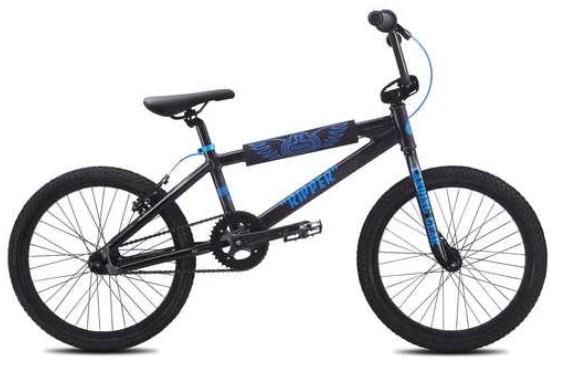 The Mongoose Title BMX bikes come in both 20-inch and 24-inch wheel diameters. Your little one can dash around the track with you, the big kid, hot in pursuit during open practice.
This bike features an aluminum frame that's lightweight but still able to handle the demands of a BMX race track.
With a top tube length of 21.77″, the 24-inch Mongoose Title suits riders between 5'3″ and 5'8″.
The drivetrain consists of a 44/16T gear ratio with 170mm long tubular 3-piece Chromoly cranks that enable quicker acceleration.
Its 48mm long stem means that the bike responds faster to handlebar inputs from the rider.
And since each race or practice session has to stop, the Mongoose Title comes equipped with an aluminum V-brake with linear-pull levers.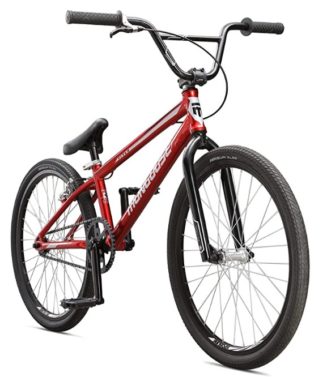 The Mongoose Title Elite 24 BMX race bike is a leveled-up version of the Title series. This bike's design is for the BMX race speedster with advanced skills and experience.
Its frame is made from 6061 Aluminum which offers excellent tensile and yield strength better to handle the demands of the BMX racing track.
The Title Elite's drivetrain has a 42/18T gear ratio powered by 175mm 2-piece cranks to hit the desired top speeds. This taller gear ratio is a preserve for stronger riders who have improved muscle strength.
The Title Elite comes with Arisun XLR8 24×1.75″ tires with a custom V-shaped tread pattern for increased traction and high-speed acceleration.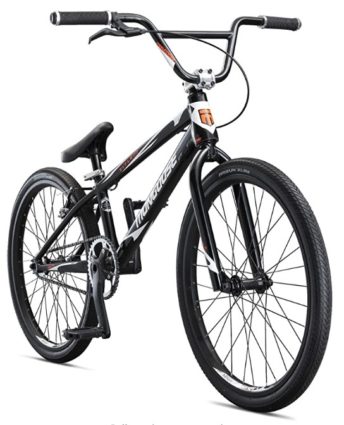 Relevant: Are Mongoose BMX Bikes Good?
Touted as the ultimate racing machine, the Schwinn Sting Pro is perfect for new and younger riders. True, its high tensile steel frame means it's a tad on the heavier side. However, that frame will last for a long time and handle the abuse only beginners and kids can dish to a bike.
The Schwinn Sting Pro rocks a vintage look and will serve you enough thrills while enjoying your riding experience.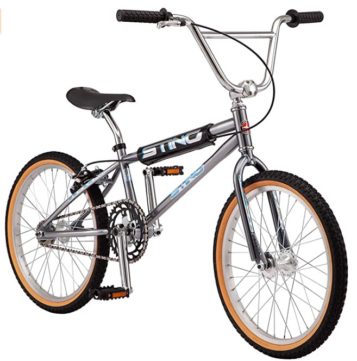 The MX series from Redline caters to the entry-level market. The Redline MX-24 is the right choice for new or returning riders.
The MX 24's frame comes from 6066 Aluminum which is lightweight but strong.
Its design utilizes a 24 x 1.75″ wide front tire that offers more traction and thus better control, while the rear tire is 24 x 1.60″ – a feature that enables it to roll faster.
The Redline MX-24 uses the Tektro 918 linear brakes to help bring you to a stop once you get to the finish line.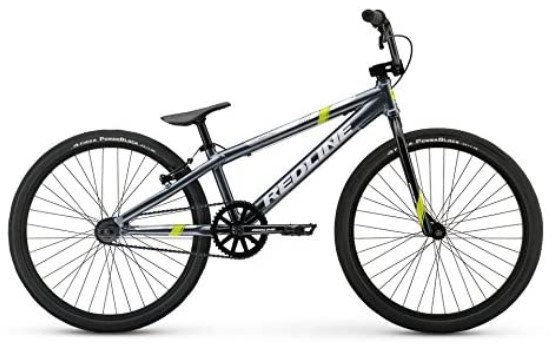 People Also Ask
1. What Size BMX Race Bike Should I Get?
Some of the factors that determine the size of the BMX race bike you can get are your height, the type of racing you'll engage in, and your personal preferences.
The standard diameter for BMX race bikes is the visibly smaller 20-inch tire. The bike's top tube length varies from 17.25″ to 22.75″ to accommodate riders of different heights.
Are you 5'6″ and above? Strongly consider getting the 24-inch cruiser race bike. With a top tube length of 21.5″ or more, you will have enough space to ride quicker.
2. What Is The Difference Between a Racing Bike and a Freestyle Bike?
BMX racing bikes are primed for speed. To that end, BMX race bikes have a specific geometry. That includes a light but strong frame mostly made of aluminum and skinny tires of 1.75″ width or less to reduce drag and increase speed.
On the other hand, Freestyle BMX bikes are built for endurance. They come with sturdy, firm, and thicker frames made of steel or Chromoly. Their tires are knobbier and broader for better traction, with double-wall rims to better absorb the shocks from all the drops and jumps.
3. Is a BMX Bike Good For Racing?
The beauty of a BMX bike is in its versatility. Due to the bike's construction and frame geometry, a rider can shred in the skate park and still take the same bike for a dash around the track with minimal changes.
However, in the spirit of using the right tool for the job, one should get a BMX race bike for racing and a Freestyle bike for their stunts and tricks.
In Conclusion – BMX Race Bikes Sizing Guide, What Should You Know?
The increased number of BMX brands and custom-built ones make getting the right bike size daunting. But it shouldn't be. Armed with a sizing guideline and specific features to look out for, you too can navigate the murky waters and start on your BMX racing journey.
Relevant: