Here's the unvarnished truth – curating a list of the best BMX bikes is no mean feat. Reason? No specific BMX bike brand fills all the needs a rider might have. Simply put, different strokes for different folks.
What features do the best BMX bikes have that elevate them above the rest of the pack?
Generally, manufacturers of the best BMX bikes build them to withstand the extreme abuse from all the drops and jumps. As such, they have frames and forks that are rigid, strong, and durable.
On the other hand, their drivetrain components come from some of the best third-party manufacturers, such as Shimano, SRAM, and Campagnolo.
Additionally, manufacturers of such bikes use some of the latest proprietary technologies. Furthermore, they incorporate high-grade materials with high-quality builds to produce bikes that outperform the competition.
Read along as we delve deeper into each of these aspects. We'll also check out a few bike categories and brands under each category.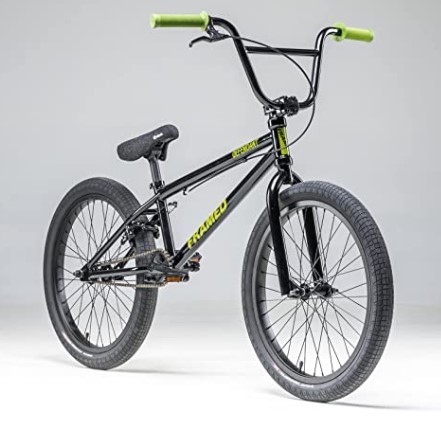 In a rush? Below is our list of a few of the best BMX bikes.
4 Best BMX Bikes for sale
Features of the Best BMX Bikes
Here are the best features of the best BMX:
a) Frame
The frame is to the bike what the backbone is to the body – it is where everything attaches. As such, the frame should be lightweight yet strong to handle the stress from BMXing.
Modern bikes maintain firmness and strength mainly due to the materials used in their manufacture. Aluminum, steel, and carbon are the most common materials used for bike frames, with Aluminum and carbon remaining the preserve of racing BMX and high-end bikes.
High-tensile steel is the heaviest and usually features in low-end, kids', and older bikes, while Chromoly steel is much lighter yet strong and features in the newest bikes.
The frame's diamond shape comprised of two triangles increases its strength. Additional firmness emanates from varying aspects such as frame tube thickness, size, shape, and properties of the forming metal.
b) Forks
Forks hold the front wheels and play a crucial role in the bike's steering. For new riders, experts advise one to run the stock forks their bikes came with before considering making a change.
For those that want to make a performance upgrade, it's important to note that forks are wheel-size specific. Therefore, pick forks meant for the tire size you're running.
Manufacturers employ Aluminum, steel, titanium, and carbon to produce forks. Ensure that you go for Chromoly steel forks as they are more robust, reliable, and durable.
Aluminum forks do tend to snap easily under stress. Hence they're to be avoided. Titanium and carbon forks mainly cater to the exclusive and high-end market.
c) Rims
Bike rims keep the tires in place, offer a braking surface for bikes that use rim or caliper brakes, and are made from steel, Aluminum, or carbon. Carbon rims are lighter but more expensive and usually reduce braking capabilities, especially in wet weather conditions.
d) Spokes
Spokes help transfer rider and bike weight between the rim and the hub. The standard for Freestyle BMX bikes is 36 spokes, while Racing BMX bikes come with 32 spokes.
Some wheels have 48 spokes for improved traction, weight distribution, and speed control. The only downside is that as the number of spokes grows, so does drag.
e) Cranks
Cranks help in transferring the power input from the pedal to the drivetrain. As such, cranks need to be stiff to perform optimally.
There are three crank types; one-piece, two-piece, and three-piece cranks. One-piece cranks feature mainly in low-end and kid's bikes. Three-piece cranks are stronger and more durable, especially when made from Chromoly steel.
f) High-Quality Materials and Technologies
Bike manufacturers are in a race to remain a cut above the rest. As a result, newer technologies and features are churned out regularly. For instance, hydroforming technology is quickly gaining ground in frame tube fabrication.
The current crop of enlightened riders is particular about the quality and build of bikes they buy and ride. Therefore, manufacturers, and especially those of famous brands, have to review the quality of their products constantly.
Any deviation from the expected standards usually carries damaging financial repercussions.
Best BMX Bikes for Kids
BMXing is fun and has many health benefits. If you rode as a kid, you no doubt would want your little one to have a share of these benefits and then some.
Where to start
Children as young as two years old can begin their biking journey. Most usually start from a balance bike before graduating to a pedal bike with trainer wheels, and finally to riding on their own.
Most manufacturers usually use the tire size as a metric for determining bike sizes for children. The tire sizes range between 12″ to 18″ for kids' bikes. But since children vary in size, we recommend using the child's height to help choose the bike frame size as it's more accurate.
High-tensile steel is the preferred material for bike frames meant for kids. True, Hi-ten frames are heavy. However, they can handle the demands of BMXing and the abuse that only kids can dish out to bikes. The preferred material for race BMX bike frames is Aluminum as it's lighter than steel.
For braking, kids' bikes utilize coaster brakes. All your little one needs to do is backpedal, and they'll come to a safe stop.
Ensure to equip your child with safety gear such as helmets, knee and elbow caps, and shin guards before they commence their cycling adventure.
Recommendation – Mongoose Legion L16
With a top tube length of 15.3″, the Mongoose Legion L16 is specially crafted for riders that are 3'6″ and below. It packs the 25/9T gearing ratio that's stronger and thus perfect for tricks and Freestyle.
The bike's High-tensile steel frame and forks are ready for the demands of BMX biking and guaranteed to serve for a long time.
Best BMX Bikes for Adults
Reasons for adults entering the BMXing world vary. It could be due to one's girth widening at an alarming rate or a burning desire to relieve the youthful days long gone. It could also be a parent getting stoked to accompany their young one for a ride and spend some time together as a family.
Whatever the reason, BMX biking is indeed a viable option for adults.
However, the elephant in the room remains where to start. Well, drop your anxiety and read along as we delve into the basics you need to check.
Where to start
First off, determine your riding niche. It can be BMX racing or Freestyle (a collective term for Street, Park, Vert, and Flatland).
After that, get a bike with a frame that fits you well since the bike will essentially be an extension of your body. The wrong bike fit will work the wrong muscles and result in some severe injuries or significant discomfort while riding.
For a rider with a height of more than 5'6″, we recommend getting a bike with a top tube length of 20.5″ or more.
Next up is the wheel/tire size. For riders taller than 5'7″, we suggest getting a bike with 24-inch wheels and a tire width of 2.125″ or more. The 24-inch tire size offers more stability than its 20-inch counterpart, which has rightly earned its moniker as being "twitchy".
You could go significantly bigger by getting the 26-inch, 27.5-inch, or 29-inch bikes, as these cater to riders taller than 6″.
If you're riding a BMX bike to help you cut down on some weight, we strongly suggest getting a bike with double-walled or even triple-walled rims. You could combine this with a 48 spokes wheel instead of the usual 36 to help your bike handle even more weight.
As for the drivetrain elements, we suggest you retain the stock components that come with your bike. You can upgrade to different ones later.
Recommendation – Mongoose Title 24 BMX Bike
The Mongoose Title 24 BMX bike strictly falls under the BMX race bike category. And as suggested in the name, it comes with 24-inch diameter wheels.
As a racing bike, the Mongoose Title 24 bike comes with a lightweight aluminum frame and a top tube length of 21.75″ that suits riders taller than 5'7″. The bike's large wheels provide stability and improved handling.
The bike's rims are double-walled to ensure you don't bend the rims while riding or perhaps by just sitting on the bike.
Best BMX Bikes for Beginners
As a beginner in the BMXing world, you'll want to focus on the bike's frame, drivetrain, wheels, and braking system.
Recommendation – Redline MX-24
The Redline MX-24 comes ready right out of the box – a lifesaver for those not high on technical skills. And once you take the Redline for a spin, you'll immediately notice that it's light in weight and responds promptly to your various inputs.
If you put in the hours and gain the air, you'll soon be leaving opponents in the wake of your dust.
Best BMX Bikes for Freestyling
Freestyling is a collective term for several BMX niches, including Street, Park, Vert, and Flatland. All these categories include technics and stunts that require a bike with a solid build.
Recommendation – Schwinn Sting Pro & Predator
This freestyle BMX bike is best for 4'8″ -5'4″. It's available in 20-inch and 24-inch options and enjoys a laid-back design characterized by classic handlebars.
Its aluminum frame and wheels make it lightweight and maneuverable, thus best for street stunts.
People Also Ask
1. Which BMX Brand is Best?
The jury is still out on which BMX brand takes the number one spot. However, brands such as Diamondback, FIT, Mongoose, We the people, Schwinn, and Haro have established themselves at the top.
2. Is BMX The Fastest Bike?
The answer is No. BMX bikes are built for tricks and stunts, not very high speeds. Racing BMX bikes can reach top speeds of up to 35 mph, while Freestyling BMX bikes can only get a top speed of about ten mph. Compare that with Road bikes that can achieve top speeds north of 50 mph.
Closing Remarks
Almost fifty years – that's how much time has passed since the first BMX bike was produced. Since then, different brands have come and gone, promising the best BMX bikes. Several, though, have stood the test of time. Reason? A perfect combination of durable and reliable components.
Relevant: