Getting a good bike helmet is every rider's concern. With the many brands in the market, the task becomes nerve-wracking. But what about Giro helmets vs Bell helmets? Which of these helmets suits you or is better?
Giro helmets are more rounded to suit riders with round heads and are slightly more stylish than Bell helmets but less roomy. Meanwhile, Bell helmets are elongated to fit oval/oblong heads and are slightly roomier but less stylish than Giro helmets.
However, since both bike helmet companies share the same owner (Vista Outdoor), you can expect them to be good quality, safe, breathable, and comfortable.
That is because they go through the same quality standards, offer the same protection, pass through the same testing standards, and their prices are almost similar.
This guide will look at the similarities and differences between Giro and Bell bike helmets, recommend the best, and answer some questions about the topic.
Let's get started! But before then, let's better understand the two bike helmet manufacturing companies.

In a rush? Below is a comparative table on Giro helmets vs Bell helmets to consider:
Giro Helmets Vs Bell Helmets Compared!
| | | | |
| --- | --- | --- | --- |
| – | Difference | Giro Helmets | Bell Helmets |
| 1. | Shape | More rounded | Oblong/elongated |
| 2. | Head Preference | Roundheads | Oval/oblong heads |
| 3. | Size | Less roomy | Slightly roomier, especially large and X-large options |
| 4. | Design | Slightly more stylish than Bell | Slightly less stylish than Giro |
Giro Helmets
Giro, a US-based manufacturing company, makes Giro helmets, amongst other snowboarding equipment. The company uses high-quality, rugged nylon to make Giro helmets durable.
Although Giro works independently, it's owned by Vista Outdoor, a brand that also owns Bell.
Bell Helmets
As the name suggests, Bell, also a US-based company, makes Bell helmets amongst protective motorcycle equipment. Just as named earlier, Vista Outdoor owns Bell manufacturing company.
But who wins this race? Well, let's look at the similarities and differences between Giro Vs Bell helmets below:
Similarities Between Giro Helmets and Bell Helmets
Just a hint, Giro and Bell helmets have so much in common than there are things that set them apart. Below are the similarities between Giro and Bell bike helmets:
Ownership
As mentioned earlier, both helmet manufacturing companies (Giro and Bell) share the same owner, Vista Outdoor.
Vista Outdoor, a leading designer and sports gear manufacturer, is located in Anoka, Minnesota.
They also have a vast chain of distribution centers in Asia, Canada, Europe, Mexico, and Puerto Rico.
Quality Standards
Both Giro and Bell helmets define the word quality best. The two manufacturers use good-quality materials on their shells and lining.
Their shells' construction comprises impact-resistant material, which is why most riders prefer them. And their quality doesn't stop there. Like mountain bike helmets, the straps and visors come from reliable and equally durable materials.
And to add ice to the cake, these helmets come well-ventilated to give you the utmost comfort and are also lightweight.
Testing Standards
Though Giro and Bell helmets have different testing laboratories, the testing standard is the same. That is because the two companies act per Consumer Product Safety Commission (CPSC) standards.
Protection
If you are looking for a helmet, your topmost concern is protection and safety. Well, the two helmets give you that – protection.
They are crafted with a Multi-Directional Impact Protection System (MIPS) that cushions your head during crashes, thus minimizing the risk of severe head injuries. Their outer shells, on the other hand, are made from polycarbonate that reduces the impact potentially.
Price
Giro and Bell helmet companies employ safety and quality standards and technologies in helmet production; thus, their helmets do not differ much in price.
Though Giro and Bell helmets are slightly more expensive compared to other brands, they give you much more price aside. They are good quality, reliable, durable, breathable, and comfortable.

Differences Between Giro and Bell Helmets
Below are the three significant differences between a Giro and Bell helmet:
1. Shape and Head Preference
The primary and critical difference between the two bike helmets is their shape. Giro helmets are more rounded and a better choice for cycling enthusiasts with an even or round head shape.
On the other hand, Bell helmets come with an oblong (elongated) shape and are for those with an oval or oblong head.
But should my head shape matter?
Well, not much for casual riders. However, choosing your helmet according to your head shape is a good idea if you are a biking enthusiast who rides for long hours. Also, make sure that it fits snugly for comfort.
2. Giro Vs Bell Helmets Size
The fit aside, the other significant difference between a Giro and a Bell helmet is their size. Though both manufacturing companies make helmets in small (s), medium (m), large (l), and extra-large (xl) sizes, there is a slight difference between them—the dimensions won't match.
While Bell's small helmets are a bit roomier, it cannot be said of Giro, and when Giro's large and extra-large helmets are a little bigger and accommodating to individuals with larger heads, it's not the case with Bell.
Below is a sizing guide for buying your ideal Giro or bell bike helmet.
Helmet Size
Head Size
Bell Helmet
Giro Helmet
Small
20.5'' – 22.0'' (52 – 56cm)
20.0'' – 21.75'' (51 – 55cm)
Medium
21.75″ – 23.25″ (55 – 59 cm)
21.75″ – 23.25″ (55 – 59cm)
Large
22.88″ – 24.33″ (58 – 62cm)
23.25″ – 24.75″ (59 – 63cm)
Extra large
24.0″ – 25.63″ (61 – 65cm)
24.75″ – 25.63″ (63 – 65cm)
3. Giro Vs Bell Helmet Design
If you are a biking enthusiast who likes riding for long hours, it means you will be spending the most time in your bike helmet. Buying a bike helmet that embraces your 'good feel' mood would be best.
While most cyclists prefer Giro for its creative and stylish make, Bell also has its charm. However, since the two helmets differ in their look and design, choosing between them boils down to individual preference.
Best Giro Helmets Review
There is so much to like about Giro helmets. In their mountain bike helmet category, Giro employs MIPS technology that helps in protecting your head from rotational head injuries.
Their outer shell is mold-in of polycarbonate material that minimizes direct impact in cases of falls or accidents.
Internally, the mountain bike Giro helmet has an EPS liner that is well-ventilated and helps absorb shock. That's not all. They also feature a durable, adjustable visor that shields your face against natural elements.
If you own a mountain bike and are looking for a Giro helmet, you cannot go wrong with the Giro Feature MIPS Adult Mountain Bike Cycling Helmet (Check on Amazon).
What if you own a road bike? Well, Giro has a variety of road bike helmets. Their road bike helmets come in many colors and sizes to match every rider.
Giro road bike cycling helmets are also lightweight, aerodynamic, and rugged. And just like its mountain bike counterparts, they employ MIPS technology in its construction and internally an EPS liner for comfortability.
One excellent pick for a road bike Giro helmet is the Giro Syntax MIPS Adult Road Cycling Helmet (Check on Amazon).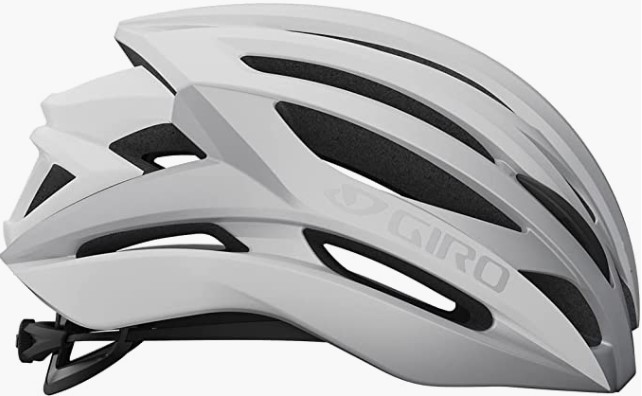 Best Bell Helmets Review
Bell helmets don't disappoint, either. You will find their road bike helmets with a molded-in polycarbonate outer shell that aids in protecting your head.
They usually come with an EPS internal liner that makes you feel warm while cushioning your head during falls and crashes.
And when it comes to minimizing rotational impact, bell road bike helmets are crafted using MIPS technology. These helmets come in various sizes and are lightweight, rugged, and lightweight.
One bell road bike helmet that fits the description is the BELL Stratus MIPS Road Bike Helmet (Check on Amazon).
When we turn to Bell mountain bike helmets, they resemble Giro in many ways. They come with a solid construction and use MIPS technology to reduce rotational impact while protecting your head from severe injuries.
Internally, these helmets come with soft padding that shields you from cold and absorbs shock. The outer shell comes from a polycarbonate material and features adjustable visors that protect you from natural elements. Our pick in this category is the Bell Super 3R MIPS Mountain Bike Helmet (Check on Amazon).
Giro and Bell Kids Helmets
Giro and Bell don't only make helmets for adults but also kids and teens. If you want a bike helmet for your kid, the buying guide is simple – safe, comfortable, and durable.
Giro and Bell promise that in their kids' bike helmets and much more. Like adult helmets, they also use MIPS technology to make kids' helmets that minimize rotational impact.
The helmets are well-ventilated and lightweight. And when choosing whether to buy a kid Bell or Giro helmet, remember to check the fit and the head shape. You can choose either from here (Check on Amazon).
Are Giro Helmets Safe?
Giro helmets are safe. They can be used by both casual and biking enthusiasts. These helmets use MIPS technology that prevents your head from rotational forces.
Internally, they come with a soft padding material that makes you feel warmer while cushioning your head. Moreover, Giro helmets are breathable, lightweight, and safe.
Do All Giro Helmets Fit the Same?
No! Giro helmets fit individuals with a more rounded head. So, if your head is rounder, you can look at your ideal size before making the order.
Closing Remarks On Giro Helmets Vs Bell Helmets
Choosing between a Giro vs Bell bike helmet is easy. You should pick a Giro bicycle helmet if you have a rounder head or a bell bicycle helmet if you have an oblong (elliptical) head.
Once you know your head shape, you should also measure your head circumference to get the correct size.
Also Read: