What a great feeling when your kid hits ten years! For many parents, nothing is timelier to mark a decade than getting the youngster a dirt bike. But are there dirt bikes for 10 year olds?
The short answer is YES! However, you must consider two essential things before a dirt bike for your 10-year-old. One is the dirt bike seat height, and two is the engine size.
Regarding the seat height, you should go for a seat height of 26 – 31 inches, and for the engine size, it should be 50cc – 110 cc for gas dirt bikes. And when it comes to electric options, go for an engine power of 350-650 watts.
While those are the most important parameters to look out for, others include the type of dirt bike you want for your kid, whether motocross, trial, or trail dirt bike, and if you want a gas or electric powered option.
This guide will look at all these factors and recommend the most popular dirt bikes for a 10-year-old. As a bonus, I will also discuss the dirt-biking accessories your kid needs to have before commencing with this exciting adventure.
But first, let's consider the dirt bike types for your 10-year-old.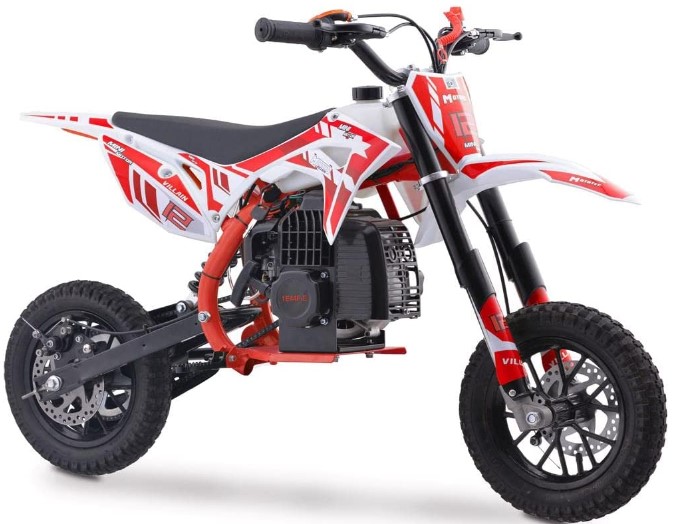 In a rush? Below are my most recommended dirt bikes for your 10-year-old
Best Dirt Bikes for 10 Year Olds
Razor Dirt Rocket Mx350 Dirt Bike – Best Electric Motocross Dirt Bike for 10-Year-Olds
Razor Dirt Rocket Sx350 Dirt Bike – Best Electric All-Around Dirt Bike for 10-Year Olds
Hover-1 H1 Dirt Bike – Best Off-road Dirt Bike for 10-Year-Olds
Types of Dirt Bikes for 10-Year-Olds
Now that you are sure you want a dirt bike for your kid, what types are on the market? Ideally, there are three main types of 10 year olds dirt bikes. They include:
Motocross kids' dirt bikes
Trail kids' dirt bikes
Trial kids' dirt bikes
Let's differentiate them below, but before I do, I want to mention that there are no enduro and cross country ten-year-old dirt bikes.
1. Motocross Kids Dirt Bikes
Motocross (MX) dirt bikes are the type of dirt bikes used in motocross races. So, if your kid fancies motocross races, this is what you should go for.
Motocross dirt bikes are powerful and have a firmer suspension and large frame. Combining all these qualities in one bike is what your 10-year-old need to endure the motocross races.
However, these dirt bikes are lightweight despite being powerful, thus easy to control by kids.
One fantastic choice for 10-year-olds is the Razor Dirt Rocket Mx350 Dirt Bike. It's an excellent pick for motocross racing by kids weighing under 140 pounds (or 63Kgs).
However, if you want an all-rounder, something your kid can ride on motocross paths and the streets, get the Razor Dirt Rocket Sx350 Dirt Bike. It's also perfect for kids weighing under 140 pounds (or 63Kgs).
2. Trail Dirt Bikes
Trail dirt bikes, also known as pit bikes, look like motocross bikes. They usually come in 4-stroke engines but have a softer suspension.
That gives your kid an upper hand when trying to take on different terrains as the softer suspension ensures they will have better bike handling and control.
Trail dirt bikes are also comfortable and give you better traction when biking on the single-track. Unlike motocross, these dirt bikes come with lower seat height and usually have an electric start.
Unlike motocross, where your 10-year-old will be competitive, trail dirt bikes are non-competitive, slower, and don't come with racing specs.
So, you can go for a trail dirt bike if you only want your kid to ride in the neighborhood or on single tracks.
3. Trial Kids Dirt Bike
Many get confused about trail and trail dirt biking. However, the two differ in many ways. While trail dirt bikes, as we saw above, are for riding on single tracks, trial dirt bikes are commonly popular for trial events.
And unlike trail bikes, trial dirt bikes go much slower over obstacles. They stand out among the rest as they have low seats and are better-ridden when standing.
They are great in teaching your 10-year-old technical riding in your backyard, as you can see how well they control the bike before they can go for trial events.
Things to Consider When Buying a Dirt Bike for 10 Year Olds
Before you can make a conclusive decision on which dirt bike to buy for your 10-year-old, consider these factors:
a) The Seat Height
It doesn't make sense to buy a dirt bike with either a too small or too big seat height for your kid. That means they won't enjoy their two wheels, right?
The average seat height for ten-year-olds should be around 26 – 30 inches or 66 – 76 cm. Anything below or beyond may not fit.
However, it's also ideal to know your kid's height because, as we all know, some ten-year-olds may be slightly taller than this, or others may be slightly shorter.
For their safety and overall comfortability, the seat height should allow their feet to touch the ground when seated on the bike.
But what if you ordered your kids dirt bikes without considering this factor? Most manufacturers make dirt bikes with adjustable seats, so you can adjust them to align with your kid's needs.
b) The Engine Size
The Cc (cubic centimeter) helps describe the gas dirt bike's engine power. Cc rating measures the engine displacement and helps determine if your child's dirt bike size is correct.
The higher the cc, the more powerful the dirt bike, which can intimidate your 10-year-old, so avoid them.
In turn, a dirt bike with a very low cc may be suitable for 3-7-year-olds, but it could be too boring for a 10-year-old as it is really slow.
That said, what cc is suitable for your 10-year-old?
When considering the needs of a 10-year-old, you should go for engine sizes that are 50 – 110cc. So, anything that features within this bracket is suitable for a 10-year-old.
It's, however, common for parents to ask if their 10-year-olds can ride a 125cc. Well, if your kid is experienced (maybe transitioning from a smaller dirt bike), taller, and larger than those in the 10-year bracket, you can aim for the 125 CCs but nothing beyond that.
That is because less powerful dirt bikes are often lightweight and, therefore, ideal for your 10-year-old.
But as cc is for the gas-powered dirt bikes, what about the electric powered?
The electric dirt bike engine power is abbreviated in watts. For a 10-year-old, you should go for an electric dirt bike with 350 – 650 watts of engine power.
c) Electric Vs. Gas Dirt Bike
The last consideration is whether to buy an electric or gas-powered dirt bike for your kid. While both options are decent for your 10-year-old, they differ in a few ways.
Electric Dirt Bike
Electric dirt bikes are simple and have fewer parts to minimize maintenance. They use a rechargeable lithium-ion battery. Below are their pros and cons:
Pros
Cheap to maintain
Easy to ride
Inexpensive
Not loud
Cons
Less power than gas-powered dirt bikes
The charge may run out easily
Gas Dirt Bikes
Gas-powered dirt bikes are robust and thus suitable for rough riding. They come as either 2-stroke or 4-stroke engines. 2-stroke engines consume little fuel and are overall light but less powerful. On the other hand, a 4-stroke engine dirt bike is more powerful but consumes too much fuel.
Below are their pros and cons:
Pros
More powerful than electric powered
Can tackle rough usage
Cons
They are expensive to maintain
They are noisy (loud)
Dirt Biking Accessories for 10 Year Olds
As promised, it cannot go without discussing the accessories needed for dirt biking. My advice to all parents is that you should not buy your kid a dirt bike and forget to buy the necessary accessories for dirt biking.
Below are the two main dirt bike accessories that your kid will need:
The body armor should protect your kids' chest, spine, back, elbow and knees. That makes them safe even when competing in motocross races.
One dirt bike body armor to get them is the StarKnightMT Kids Armor Suit. This body armor comes with a chest-belly protector and knee and elbow pads. It suits kids who are 3 – 10 years old.
The size is ideal for kids with a chest of 25.2 – 30.7 inches and waists of 26.0 – 33.1 in. Meanwhile, their height should be 3.0 – 4.5 feet and a neck of 21.1 – 25.8 inches. So, before ordering, ensure your kid falls under this sizing guide.
A helmet protects your kid against head injuries. Dirt bike helmets for 10-year-olds are available in different colors and sizes, so you can pick whatever size and color suit your kid.
One great selection is the GLX GX623 Dirt Bike Helmet. This unisex helmet comes in small, medium, large and x-large and has a graffiti appearance that is attractive to suit kids who are ten years old.
It is made in compliance with DoT standards and is lightweight, thus best for kids.
Extra Tips to Make Your 10-Year-Old Enjoy Dirt Bike Riding
If your kid is a first-timer, let them try out on flatter ground
Ensure you get their correct size dirt bike
Ensure they wear the right gear before dirt biking
Ride together to motivate and encourage them
Let them ride with a friend
Make riding a daily routine
People Also Ask
1. Are There Battery Powered Dirt Bikes for 10 Year Old?
Yes! There are battery-powered dirt bikes for 10-year-olds. Two fantastic recommendations on Amazon are:
Razor Dirt Rocket Mx350 Dirt Bike
Razor Dirt Rocket Sx350 Dirt Bike
Hover-1 H1 Dirt Bike
2. What Dirt Bike Should A 10 Year Old Ride?
The best dirt bike for a 10-year-old should range from 80 – 110 cc for gas-powered and 350 – 650 watts for the electric options. Also, go for seat heights within the range of 26 – 30 inches tall.
3. Are There 4 Stroke Dirt Bikes for 10 Year Old?
Definitely yes; if your kid is transitioning to a bigger dirt bike and has some experience, you should get them a 4-stroke rather than a 2-stroke dirt bike. A 4-stroke bike is powerful and speedier.
4. Can A 10 Year Old Ride A 125cc Dirt Bike?
Dirt bikes with 125cc are more suitable for kids 12 or 13 years old and above. Kids who are ten years old are comfortable riding dirt bikes that are 50-110 cc. However, if your 10-year-old is not a beginner, he can transition to 125cc.
5. Which Is the Best Razor Dirt Bike for 10 Year Old?
Razor dirt bikes mainly target kids who are 13+ years old. However, the Razor Dirt Rocket Mx350 Dirt Bike and the Razor Dirt Rocket Sx350 Dirt Bike can be ridden by ten-year-olds according to customer reviews, provided kids don't exceed 63Kgs or 140lbs.
6. Can A 10-Year-Old Ride a Dirt Bike?
As early as ten years, your kid can start dirt biking. However, buy the most beginner-friendly dirt bikes. Also, for your amateur kid, ensure they wear the safety gear and that you get the size right.
Closing Remarks On Dirt Bikes for 10 Year Olds
As seen, there exist dirt bikes for 10-year-olds. But before the purchase, ensure you get the seat height and the cc correct. Also, ensure your kid is ready for dirt biking and protect them with the proper safety accessories.
Relevant: