The market is full of dirt bikes. But with the many different types of dirt bikes, it may be a doubting task to choose one.
Common dirt bikes include dual sport, motocross, enduro, trail, supermoto, adventure, and trail dirt bikes. Each has its purpose and design, and so you've to keep those basics in mind when choosing what dirt bike to ride.
So, choosing your kind boils down to what you intend to do with it. While some are road-compliant, others are specifically for the off-road, and while some are for rough and rocky trails, others are for softer ones.
Still, others are only for testing your skill and ability to overcome obstacles that seem impossible with regular dirt bikes.
So, what should you expect? In this guide, I will exhaustively explain the seven main different types of dirt bikes, give the best recommendations in each case, and as a bonus, I will disclose the best brands you can consider when buying your dirt bike.
Let's get started!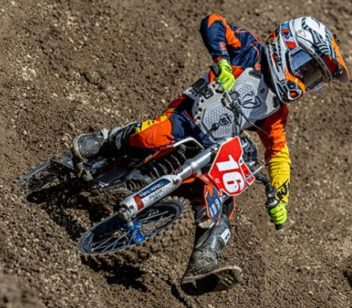 In a rush? Below is a summary of the best types of dirt bikes and their purpose.
Different Types of Dirt Bikes and their Uses
| | |
| --- | --- |
| Dirt Bike Type | Purpose |
| Dual Sport Dirt Bike | Road compliant but can also go off-road |
| Motocross Dirt Bike | Racing in supercross and motocross races |
| Enduro Dirt Bike | Riding long distances on obstacles and rocky trails |
| Trail Dirt Bike | Used for trail riding and are not road compliant |
| Super Moto Dirt Bike | Are excellent for the road |
| Adventure Dirt Bike | Road compliant and taking long freeway rides |
| Trial Dirt Bike | For trial events. They are for testing rider ability and skill to roll over technical obstacles |
Types of Dirt Bikes
Below are the different types of dirt bikes in the market today:
1. Dual Sport Dirt Bikes
Dual sport dirt bikes are popular and good performers both off the road (on dirt trails) and on the road (in the streets). So, if you are looking for a bike to hit the road and still use it on the trails, a dual sport is legal and 100% road compliant.
However, they lean more on-road than off-road. That means that this motorcycle is not your competition type. They are designed to offer you comfort when riding on-road for long hours.
Dual sport dirt bikes are lightweight and come with 2-stroke or 4-stroke engines with a motor capacity of about 125cc to 700cc. The engine works more quietly than its enduro and motocross counterparts, as we will see later, meaning they are environmentally friendly (they meet all EPA road rules).
Another good thing about these dirt bikes is that they are suitable for beginners. So if you are trying it out, it will suit you most because its maintenance is low too.
Below are some popular dual sport dirt bikes to consider:
Yamaha XT250
Honda CRF450RL
Kawasaki KLX300
2. Motocross Dirt Bikes
Motocross dirt bikes, commonly known as MX dirt bikes, are standard in motocross or supercross races. So, don't look beyond a motocross bike if you want a competitive cycle to hit the berms, shutters, or jump high.
They are high from the ground and come with stiff suspension and extended travel to aid in absorbing shock and impacts when landing after a big jump.
Their narrow gear ratios help you achieve lightning speed when taking off. However, these bikes are noisy.
For this reason, they are not road compliant.
They are not built for comfort but speed, and you are likely to ride them when standing, and that's why they have a minimal seating area.
Regarding the tires, motocross dirt bike tires have deep treading that helps dig deeper into dirt and mud and enable you to get maximum tire traction. You can choose their 2-stroke or 4-stroke engines.
Some excellent examples of motocross dirt bikes include;
KTM 450 SX-F
Husqvarna TC 125
Kawasaki KX Series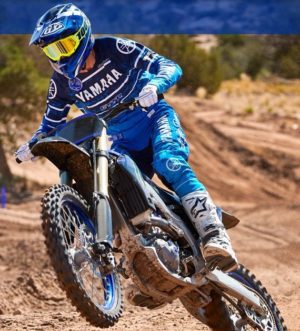 3. Enduro Dirt Bikes
An enduro dirt bike is derived from the word endurance. They tackle technical obstacles, are ideal for rough and rocky trails, and can take the river beds hassle-free.
They have excellent power and acceleration and ride longer at high speeds. If you are the type that enjoys riding at night, an enduro dirt bike comes with a headlight in place to illuminate your trails.
They come as 2-stroke or 4-stroke engines, and their motor range is between 125cc – 600cc.
If you feel like this is your ideal bike, consider the below enduro dirt bikes:
Yamaha WR450F
Husqvarna FX350
KTM 300 EXC TPI
Honda CRF450Rx
4. Trail Dirt Bikes
Trail bikes are the most popular dirt bikes out there. Maybe you have heard of it too. Well, these dirt bikes lean more on beginners than pro riders.
They come with a lower seat allowing you to put your feet flat on the ground, and are more forgiving when you make mistakes.
Even better, they are easy to maintain as they come with minimal features and do not involve complicated technology in their manufacture, making them pocket-friendly.
Another remarkable thing about the dirt bike is that as you learn and gain excellent handling skills, you can modify the bike for more power. For example, since they come with a soft and simple suspension which is only adequate for smoother trails, you can improvise it with a more powerful one.
Their engine comes as 2-stroke or 4-stroke, and their motor sizes range from 250cc – 300 cc and thus are not designed for speed or long rides.
However, since trail dirt bikes are not street legal, you will need a trailer or a truck to transport your motorcycle on-road to reach the trail.
The best options in this category are
Kawasaki KLX 300R
Yamaha TTR230
Honda Trail 125 ABS
5. Super Moto Dirt Bikes
The supermoto ticks that box if you aim to get a road-compliant dirt bike. They come with modified gears that allow you to take off at a fast speed, just as road bikes do.
Compared to other road-compliant dirt bikes, the supermoto is nimble, lightweight, and has slick road tires.
If you own an enduro dirt bike and feel like transitioning it to a legal road dirt bike, you can convert your enduro to a supermoto bike with a few parts change.
Their engines come as 2- stroke or 4-stroke options. If you are like me and like riding faster and need more power, a 4-stroke with a motor size of 600cc will be a breathtaking option.
Some good examples of super moto dirt bikes are:
KTM 690 SMCR
Suzuki DR-Z400SM
Husqvarna SM450R
6. Adventure Dirt Bikes
Adventure dirt bikes are what the name suggests – for adventures. They are common for long-street rides but, at times, can be used off-road.
So, one thing about these bikes is that they come with many comfort features like extra-large seats and multi-purpose tires, and the fuel tank is big for long-distance trips.
However, they are the heaviest options on this list, and for that reason, they are not ideal for those who are trying out.
They also have unique features like a side saddle carrying bag where you can pack your essential gear and a big windscreen to minimize wind.
Good examples of adventure dirt bikes include;
Yamaha Tenere 700
Suzuki V-STROM 1050XT
Honda Africa Twin
7. Trial Dirt Bikes
Trials bikes are not a misspell of trail dirt bikes we covered earlier. They are for a specific purpose – trial events.
These dirt bikes test the rider's skill and ability to tackle technical obstacles (like logs or rocks) that seem impossible when using regular cycles.
They are uniquely designed, and it's easy to spot one. That is because they come with no seat, and you must deal with obstacles while standing.
Their tires are knobby and have a short wheelbase. Since these dirt bikes are not for speed, they have a smaller gas tank and are pretty small and lighter (mostly weighing 150 – 160lbs). They also come with a 2-stroke or a 4-stroke engine with a power size range between 250cc – 300cc.
The best options in this category are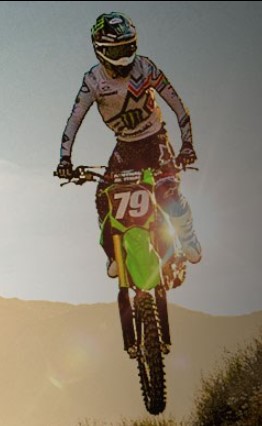 People Also Ask
1. What Are the Best Types of Dirt Bikes Brands?
If you are looking for a good quality dirt bike, you should consider getting one from the most reliable brands. Some of the best dirt bike manufacturers include:
2. What Are the Best Types of Dirt Bikes?
Again, when it comes to the best type of dirt bike, you should choose one that fits your purpose. The popular types are:
Dual sport dirt bikes
Motocross dirt bikes
Enduro dirt bikes
Trail dirt bikes
Supermoto dirt bikes
Adventure dirt bikes
Trial dirt bikes
Closing Remarks
Above are the best dirt bikes you will find in the market. You can choose according to your need and purpose. However, before hitting the street, ensure that your dirt bike is road compliant, as some are not.
Also Read: