Knowing a bike and its purpose is an introduction to an excellent ride. Given the features of a cruiser bike, one question that comes to mind is, what are cruiser bikes good for?
Well, cruiser bikes, or beach cruisers, as they are known best, are slow-speed, short-distance bikes that thrive on riding on the beach broadways, on the sidewalks, on paved roads, or for cruising to school, work, or around town.
Identifying a cruiser is easy. They come with either a step-through or step-over frame and a low-positioned saddle. The wheelbase is wider and features balloon tires, while the handlebars are raised and flared.
This guide will help you understand a cruiser bike, its suitability, and the types for easier buying. Let's get started!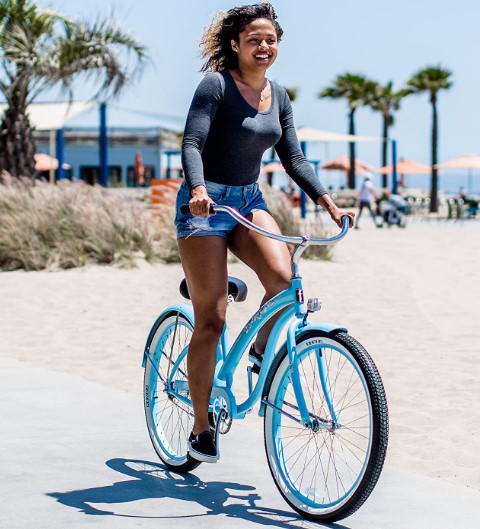 In a rush? Below are the best cruiser bikes for your consideration.
Schwinn Mikko & Huron Cruiser Bike – Best Low Rider Beach Cruiser Bike
Firmstrong Bella Classic Cruiser Bike – Best Classic Beach Cruiser Bike 
Sixthreezero Around The Block – Best Chopper Beach Cruiser Bike 
What Are Cruiser Bikes?
Cruiser bikes, or beach cruisers, as they are popularly known are bikes meant for leisure rides. They are ideal for traversing beach boardwalks, state parks, or paved roads.
In simple terms, cruiser bikes don't count as performance bikes. They prioritize comfort over speed, and thus they are friendly options for short rides.
What Are Cruiser Bikes Good for?
Cruiser bikes are used for recreational purposes. They ride excellently on flat surfaces, including the beach boardwalk, sidewalks, paved roads, and sandy beaches.
They are tough and durable to withstand unsteady terrains like mountain trails. However, they only go short distances.
So, you can use your cruiser for cruising around town or as your daily commute partner to work or school.
Features of A Beach Cruiser
Below are the features of a cruiser bike that makes them outstanding among the rest.
a) The Frame
When talking about the frame, we will consider two things, the material, and the geometry. Let's look at the material first.
Beach cruiser bikes mostly come with either an aluminum or steel frame material. While the former is lighter and rust-resistant, you can expect to spend more.
On the other hand, steel options are durable but come with the drawback of being heavy and not rustproof. However, they are cheap.
Let's talk about geometry now. Beach cruisers come with step-through or step-over frames stretched out to allow riders to lean backward or ride more uprightly. This way, you can touch the ground quickly, and it also goes easy on your knees and back.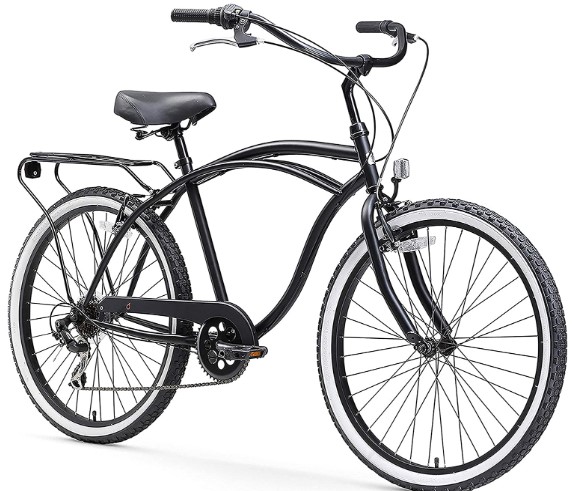 b) The Gears 
Cruiser bikes are known to be single speed just like BMX bikes. This means that you can't shift the gears.
As this may sound inconveniencing to some, please note that the one gear works well for cruiser bikes as they ride on flat paths.
But hold on, nowadays, you can find beach cruisers with multiple gears. A brand like the Sixthreezero has some fantastic cruiser bikes with 1, 3,7, and even 21 gears. So, don't feel left out if you are the gear' kind of person.
c) The Brakes 
Most beach cruisers come with coaster brakes. As the word coaster 'suggest, it means the wheels roll freely even when not pedaling.
But how do you bring coaster brakes to a halt? Well, all you need is to pedal backward. So, if you want to make a stop, you need to pedal backward, and the coaster brake will function by bringing the bike to a halt.
The good news is that coaster brakes, unlike other types, perform in all weather, requiring less or zero maintenance which is impressive.
But if you have never used this brake before, you should ensure you practice with them before going on the road.
d) The Wheels 
Beach cruiser wheels differ from the rest. They come with balloon tires ranging from 1.9¨ to 2.125¨ wide.
These knobby tires give you a comfortable and smooth ride. They also absorb the bumps and lumps on the road.
e) The Handlebars 
The handlebars are another fantastic feature that makes beach cruiser bikes comfortable. Their handlebars are flared and long. This comes with many advantages.
One, the raised bars give the rider an upright riding position. This is good news for your body, especially the spine.
Types of Beach Cruiser Bikes?
Although beach cruisers come with similar designs, they have a differentiating factor in their frame geometry. Below are the different types of cruiser bikes.
1. Low Rider Cruiser Bikes 
Drawing their inspiration from Schwinn Stingray, a low-rider beach cruiser is what its name suggests. The frame is a few inches above the ground, and the saddle is positioned low.
If your better deal is an aesthetically pleasing and comfortable bike, for that matter, a low-ride cruiser ticks the two boxes.
The seat resembles a banana and is located between wheels and not above. The pedals are just in front of you, like a recumbent bike.
If a low-rider cruiser feels like your type of bike, you cannot go right with the Schwinn Mikko and Huron Adult Beach Cruiser (Find Amazon Link Above). This cruiser bike comes with 3-speeds, durable steel construction, and fits 5'4″ – 6'2″ tall individuals.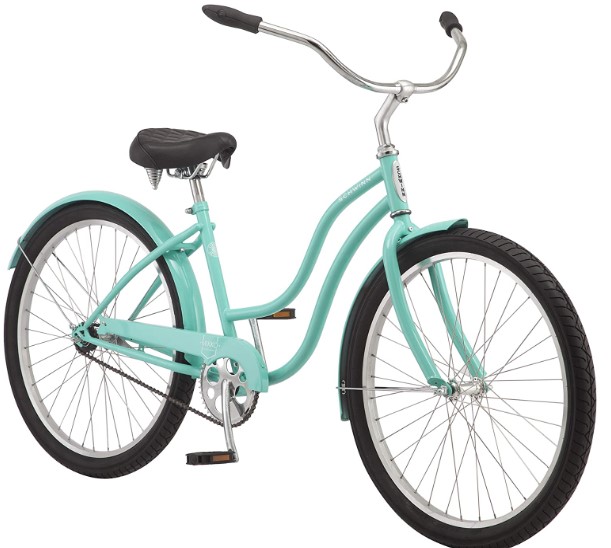 2. Classic Beach Cruiser
Classic beach cruiser bikes allow the rider to sit upright, and the saddle is positioned above the pedal. At a glance, this beach cruiser resembles a hybrid bicycle, only that it has balloon tires.
You can use a classic cruiser for commuting to school or work, leisure rides around the beaches, and on the road.
The best pick is the Firmstrong Bella Classic Beach Cruiser Bike (Find Amazon Link Above). This single-speed bike comes with steel frame construction and is thus durable.
3. Chopper Beach Cruiser 
Chopper cruisers resemble 'chopper motorcycles.' These cruiser bikes are in favor of many kids who look forward to becoming motorcyclists.
Chopper cruisers have elevated seats and ape hanger bars. The seat is fixed, primarily positioned in front of the back wheel.
The Sixthreezero Around the Block Beach Cruiser Bike (Find Amazon Link Above) is a perfect recommendation in this category. This 24-inch bike comes with a durable steel frame and has 3-speeds.
4. Stretch Beach Cruiser
A stretch cruiser is what the name suggests. It has an extended (exaggerated) length. Stretch cruisers have a longer wheelbase for increased stability, which is a plus when tackling sharp turns and corners.
Though these bikes are not on amazon, an option like the Dyno Roadster Stretch Beach Cruiser Bike is a good pick.
People Also Ask
1. Are Cruiser Bikes Good for Exercise?
Biking is a low-impact workout. Beach cruisers are no exception. They will help you reduce stress, strengthen muscles, and increase flexibility. So, beach cruisers are suitable for exercise.
2. Are Cruiser Bikes More Comfortable?
Compared to other bikes, a beach cruiser is more comfortable. Here's why! Cruiser bikes come with a lowly positioned, well-padded seat and raised bars and have a long wheelbase with durable and wide tires that gives you a comfortable ride.
3. Are Cruiser Bicycles Good for Beginners? 
Beach cruisers are easy to ride and thus beginner-friendly compared to road and mountain bikes.
However, choosing your cruiser according to your experience level would be wise. While some options are suitable for beginners, others are ideal for pro riders.
4. Are Cruiser Bikes Good for Hills?
Beach cruisers are meant for a smooth ride on flat surfaces like paved roads, beach boardwalks, and sidewalks.
Since these bikes mostly come at a single speed, going uphill can take time and effort. But if you are a hilly person, you can look at a geared beach cruiser.
5. Are Cruiser Bikes Good for Long Rides?
Beach cruiser bikes are slower compared to other bikes. On average, a cruiser bike tackles 15 – 20 mph, while options like the road bike hit 25 – 40 mph on average.
Thus, a beach cruiser is ideal for shorter rides. In short, it concentrates more on comfort over speed.
In conclusion, what are cruiser bikes good for?
As seen, beach cruiser bikes are suitable for riding on flatter grounds like the beach boardwalk, paved roads, and sidewalks. You can also use the bike for cruising around the neighborhood for short rides to the market, school, or work.
Also Read: