Flat pedals, popularly known as platform pedals, are traditionally popular among beginners and commuter road cyclists. So, it's understandable when every road cyclist wants the best flat pedals for road bike.
After all, these pedals are the epitome of strength, flexibility, and ease of cycling. These pedals come in stronger construction and allow you to ride with any shoes. You get to turn smoothly, even when facing technical terrains, and that's unequaled.
But as enticing as all these sounds, they also have their fair share of concerns. This guide will discuss the things to consider before buying road bike platform pedals and uncover the five best pedals on the market today.
Let's get started!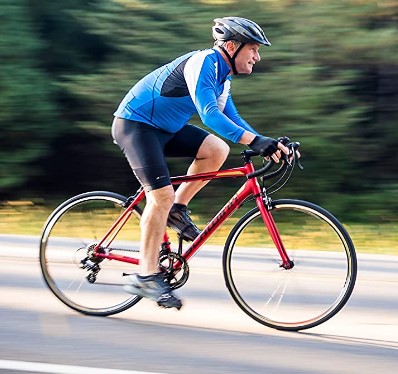 In a rush? See the best road bike flat pedals on the hotlist below:
4 Best Road Bike Flat Pedals
1. Crank Brothers Stamp 3 Flat Pedal For Road Bike : Best for Rougher Terrains
2. One-up Components Composite Flat Pedal for Road Bike: Best for Road Bike and Mountain Bike
3. LOOK Trail Grip Bicycle Flat Pedal for Road Bike: Best for Wet Road Conditions
4. Shimano PD-EH500 Double-Sided Flat Pedal: Best for Novice Road Cyclists
5. Imrider Lightweight Platform Pedal: Best Lightest Flat Pedals for Road Bike
Buying Considerations for the Best Flat Pedals for Road Bike
Below are some of the things to put into consideration when buying flat pedals for your road bike:
1. Material Type
Bike pedals come in two material types; plastic and metal. When the two are practically okay, they each have their fair share of concerns.
For example, metal pedals are the most durable and will last you for a long time. However, they are usually heavier and prone to rust than their counterparts. So, if metal is your ideal option, go for rust-resistant metal pedals.
When it comes to plastic pedals, they are lighter and come with rust-resistance properties. On a downside, they are not as durable as metal pedals; thus, they may not last long.
2. Pedal Size
When it comes to pedal size, there are two divisions here; either small or big. Choosing either is a personal decision.
But to give you a more distinct difference, you should pick the big pedal over the small one if your terrain is rougher and smaller when the landscape is much smoother.
But why? Oversized pedals give you more pedal-to-foot contact, which means excellent stability. However, because the pedals are large, the chances of pedal strikes are much higher.
On the other hand, small pedals don't suffer pedal strikes, making them popular among most road enthusiasts. However, as good as small size can be, the drawback is that it's tricky to find a pedal-to-shoe spot because of their small size, which can be a big challenge to people with big feet.
3. Pedal Weight
If you have a high-end road bike that is also lighter, you should go for more lightweight pedals too not to add significant weight to your bike. A lighter pedal shouldn't weigh over 11 ounces.
But if you have a budget or a mid-range road bike, which is heavier, you can go for pedals that weigh up to 14 ounces. The extra ounces will, however, not make meaningful differences on your bike.
4. Pedal Thickness
If your pedal is thicker than 0.6 inches, it will likely hit the ground. This can cause falls and accidents.
So, what is the ideal thickness? You should pick pedals with a thickness of 0.6 inches and below. Hear me out when I tell you to keep off pedals with more than this range.
5. Pedal Reflection
If you like riding after sunset or before sunrise, let me tell you for free that the pedal reflection is one thing to put on your consideration list.
Most ideal pedals, in this case, come with reflectors to boost your on-road visibility, especially under low-light conditions.
6. Pedal Pins
Pedal pins help the shoe stay on the pedal. They usually come in different materials. We have metal pins and plastic ridges, while others are from materials with high friction and are still replaceable.
But with all these types, how can you choose the pedal pins that suit your riding style? If you like riding in rainy seasons, you can go with small pins or plastic molded ridge pins. These pins are best for shoes with minimal treads.
However, if you like riding during summer, your cycling shoes will get sticky, so that the high friction pedal pins will work best for you.
So, choose wisely and keep off flat pedals with high pins as they can cause foot hotspots that can be pretty painful.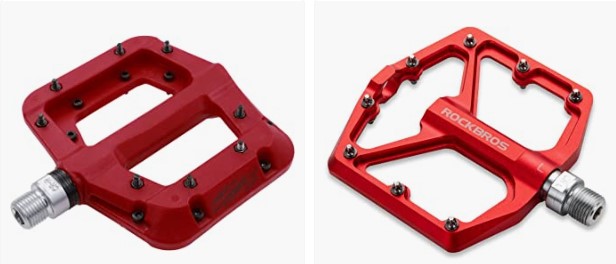 5 Best Flat Pedals for Road Bike Reviews!
Now, let's discuss the best platform pedals for road bikes below:
Let's start our list with the most durable flat pedals from Crank Brothers. The Crank Brothers Stamp 3 Flat Pedal comes in small and big sizes that you can choose according to your shoe size. The flat pedal suits shoe sizes 37 – 43 (EU) and 5 – 10 (US).
This flat pedal is worth it if you want to ride your road bike on rougher terrain. The fact that it has spaces that make mud-shedding easier is a huge bonus.
It weighs 1.05 pounds and comes in dimensions of 6''x 8''x 3″. It's expensive, but because it's durable, the price is justifiable.
The One-up Components Composite Flat Pedal fits the description if you are looking for the overall best road bike flat pedal. Even better, this flat pedal is convex to fit every shoe type.
It is made from nylon composite material and has a Chromoly steel axle, making it durable. The One-up Composite pedal is thin (measuring 0.52 inches in thickness), and you can rest assured that you will have a smooth ride and no chance of a pedal strike.
Though it leans more on the mountain bike side, it's also ideal for other bicycles, including road bikes. This pedal comes in one-size-fits-all but with many colors to choose from.
Furthermore, it's lighter, considering the set only weighs 0.9 ounces with a dimension of 115 x 105 mm.
The LOOK Trail Grip Bicycle Flat Pedal also has a convex shape. It has anti-slippery features to enable you to ride confidently, especially if you are trying out.
Their broader base has middle round non-slip rubber that comes from Vibram (a renowned brand for rubber outsoles) on both pedal sides.
The rubber comes with treads to give you a firm grip and thus makes riding in wet conditions seamless. As a bonus, it helps drain water giving you a dryer pedal and a good foothold.
As if that wasn't enough, the LOOK flat pedal comes with reflectors that help you show your presence in the dark, and you can ride with any shoe you want. From sneakers to rubbers, name them. It only weighs 525 grams and has a dimension of 107 X 103 mm.
If you are looking for Shimano flat pedals for road bike, don't look beyond the Shimano PD-EH500 Double-Sided Flat Pedal. The Shimano PD-EH500 comes with a Shimano SH56 cleat set that allows you to unclip from the pedal effortlessly. So, the double-sided pedal has an SPD pedal on one side and a platform pedal on the other.
So, if you are a novice or trying out, and in this case, nervous about falls, you have the convenience of adjusting the tension setting seamlessly. That means you can clip out or in the SPD pedal much more quickly, especially when wanting to fall.
Another heartwarming thing with this double-action pedal is that you get enough grip and control to ride in any condition wearing any shoe.
Imrider is one of the most lightweight and budget road bike flat pedals. It comes in a steep caliper that gives you a good grip, preventing slippage.
The pins have anti-skid properties and come in a big flat shape that allows you to ride comfortably for long hours.
The Imrider Lightweight Platform Pedal comes from high-quality polyamide material and is corrosion and abrasion resistant.
This pedal is compatible with BMX, mountain, road, and kid's bikes, so you don't have to buy another pedal for your other bikes.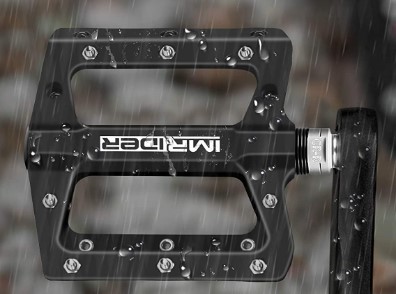 People Also Ask
1. What Are the Best Lightweight Flat Pedals for Road Bike?
Most platform pedals are lightweight. However, the Imrider Lightweight Platform Pedal is the lightest on our list. It only weighs 0.62 ounces, thus lighter.
2. Can You Put Flat Pedals On a Road Bike?
Yes, you can put flat pedals on a road bike. Flat pedals are commuter friendly, and you can ride using any shoe, so you don't have to unclip them, unlike clipless pedals.
3. Which Is the Best Dual Platform Pedals for Road Bike?
Shimano PD-EH500 Double-Sided Platform Pedal is the best dual flat pedal for road bikes that connects efficiency and convenience.
It features SPD on one side and a platform on the other, making tension settings adjustment easier.
Closing Thought
Above is an ultimate guide to using the next time you want to buy the best flat pedals for road bike. Don't forget to check the material, size, pins, thickness, weight, and the presence of reflectors. That's how you can find the most comfortable, safer, and user-friendly flat pedals.
Also Read: